Daniela Jentsch wins Latvia International Challenger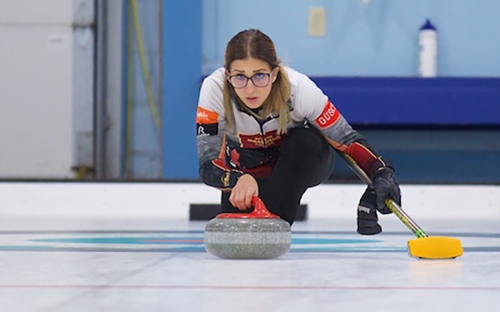 Daniela Jentsch (Fuessen, Germany) wins the Latvia International Challenger, defeating Elena Stern (Wetzikon, Switzerland) 5-3. Jentsch with Josephine Obermann at third, Analena Jentsch and Pia-Lisa Schoell on the front end take home the $2,081CDN first place cheque along with 14.249 world ranking points, while Stern receives $1,189CDN and 11.196 world ranking points for their second place finish.

Starting with hammer, Jentsch blanked the first end, got on the board scoring 1 in the second end with Stern responding in the third end scoring 2. Jentsch scored a single in the fourth end to tie the game at 2. After a blank end, Jentsch stole the sixth end, added another steal of 2 in the seventh end before running Stern out of rocks in the eighth end for a 5-3 win.

Angelina Jensen (Hvidovre, Denmark) defeated Iveta Stasa-Sarsune (Riga, Latvia) 6-5 in the bronze medal game.

In the semifinals, Stern defeated Jensen 8-1 and Jentsch scored 3 in the eighth end to win 5-4 over Stasa-Sarsune. Jensen won $743CDN, while Stasa-Sarsune won $446CDN along 8.651 ranking points for their semifinal finishes. In the quarterfinals, Jentsch defeated Madara Bremane (Riga, Latvia) 8-4, Stasa-Sarsune dropped Ieva Rudzite (Riga Latvia) 10-2, Jensen won 8-3 over Chantale Widmer (Schaffhausen, Switzerland) and Stern defeated Oona Kauste (Hyvinkaa, Finland) 5-4. Bremane, Rudzite, Widmer and Kauste earned 6.107 ranking points for their quarterfinal finishes.

Jentsch went 4-0 in the 13 team round-robin pools qualifying round. In their opening game, Jentsch defeated Marina Hauser (Dubendorf, SUI) 5-3, won against Irina Belki (Minsk, BLR) 8-2, and Maggie Wilson (Perth, SCO) 8-3, then won against Rudzite 7-3 in their final qualifying round match to reach the playoffs undefeated.