Darcy Robertson wins Atkins Curling Supplies Classic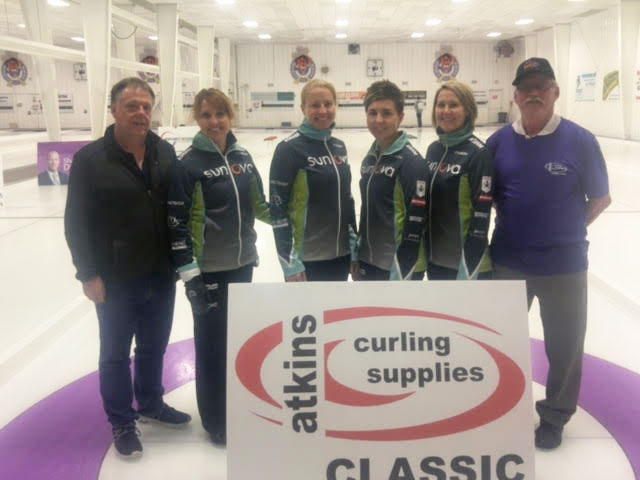 Darcy Robertson (Winnipeg, MB) wins the Atkins Curling Supplies Classic, defeating Barb Spencer (Winnnipeg, MB) 5-3 at the Assiniboine Memorial Curling Club in Winnipeg, Canada. Robertson with Karen Klein at third, Vanessa Foster and Theresa Cannon on the front end take home the $2,500CDN first place cheque along with 23.055 world ranking points, while Spencer receives $1,800CDN and 18.114 world ranking points for their second place finish.

Starting with hammer, Robertson blanked the first 2 ends, getting on the board scoring 2 in the third end, then added a steal in the fourth end. Spencer scored a single in the fifth end to trail 3-1, then forced Robertson to a single in the sixth end. Spencer scored 2 in the seventh end, with Robertson scoring a single in the eighth end for the 5-3 win.

In the semifinals, Robertson defeated Beth Peterson (Winnipeg, MB) 5-4 and Spencer defeated Tiffany McLean (Brandon, MB) 5-4. Peterson and McLean earned $1,250CDN and 13.997 ranking points for their semifinal finishes. In the quarterfinals, Robertson defeated Jennifer Clark-Rouire (Winnipeg, MB) 7-2, Spencer defeated Tori Koana (Yamanashi, Japan) 7-5, while Peterson defeated Lisa Menard (Winnipeg, MB) 5-4 and McLean defeated Briane Meilleur (Winnipeg, MB) 5-4. Koana, Meilleur, Clark-Rouire and Menard earned $800CDN along with 9.881 ranking points for their quarterfinal finishes.

Robertson went 3-0 in the 16 team triple knockout qualifying round. In their opening game, Robertson defeated Deb McCreanor (LaSalle , MB) 7-0, won against Menard 6-3, and Meghan Armit (Winnipeg, MB) 7-6 in the A Qualifier match to reach the Playoffs.