Satoru Tsukamoto wins Minebea Mitsumi Cup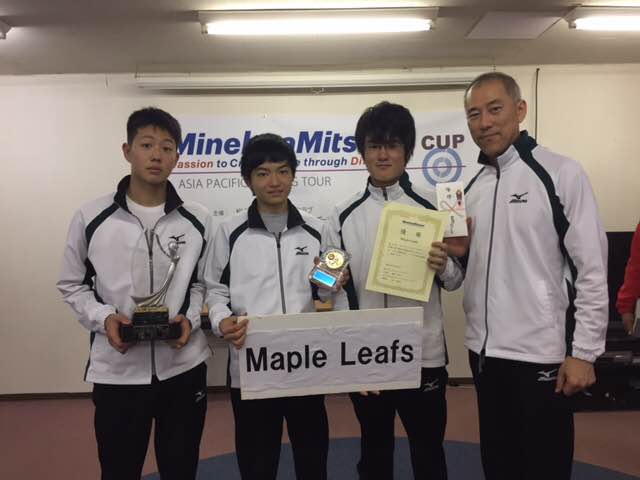 Satoru Tsukamoto (Karuizawa, Japan) wins the Minebea Mitsumi Cup, defeating Kazuhisa Unoura (Osaka, Japan) 9-6. Tsukamoto with Suguru Tsukamoto at third, Yuma Endo at 2nd and Nobuhito Kasahara at lead win $1,670CDN and 7.738 world ranking points while Unoura takes home $1,114CDN and 6.080 world ranking points for their runner-up finish.

Unoura started with hammer, scoring 4 in the first end for an early lead. Tsukamoto responded with 2 in the second end, then stealing singles in the next 3 ens to take a 5-4 lead. Unoura scored 2 in the 6th end to take back the lead, but Tsukamoto scored 3 in the 7th end, then stole another in the 8th end for the 9-6 win.

In the semifinals, Tsukamoto defeated Shunto Tsuchiya (Miyota, Japan) 7-4 and Unoura won 8-3 over Hiromitsu Fujinaka (Okajima, Japan). In the bronze medal game, Fujinaka defeated Tsuchiya 6-5. Fujinaka won $557CDN, while Tsuchiya won $334CDN along 4.698 ranking points for their semifinal finishes. In the quarterfinals, Fujinaka defeated Kota Onodera (Hokkaido, Japan) 4-0 and Tsuchiya won 9-2 over Arihito Kasahara (Tokyo, Japan). In the Fifth place game, Kasahara defeated Onodera 5-4. Kasahara won $223CDN, while Onodera earned $111CDN along with 3.316 ranking points for their quarterfinal finishes.

Tsukamoto went 4-1 in the 12 team round robin pools qualifying round. In their opening game, Tsukamoto defeated Fujinaka 6-5, won 4-2 over Hiromitsu Kuriyama (Karuizawa, Japan), then dropping their next game 5-2 to Shungo Nomizo (Yokohama, Japan). Tsukamoto won their next two games against Tsuchiya 6-2, and Masahiko Goto (Miyota, Japan) 6-5 to receive a direct bye to the semifinals.