Jason Gunnlaugson wins Mother Club Fall Curling Classic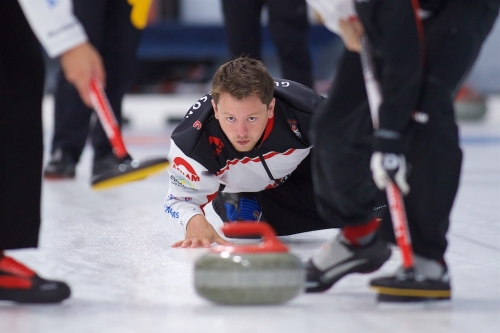 Jason Gunnlaugson (Winnipeg, MB) wins the Mother Club Fall Curling Classic, defeating Pat Simmons (Winnipeg, MB) 5-3 at the Granite Curling Club in Winnipeg, Canada. Gunnlaugson with Alex Forrest at third, Ian McMillan and Connor Njegovan on the front end take home the $2,500CDN first place cheque along with 28.539 world ranking points, while Simmons receives $1,800CDN and 22.424 world ranking points for their second place finish.

Simmons opened the scoring stealing 1 in the first end. After a blank end, Gunnlaugson scored 3 in the third end to jump out to an early lead. After another blank end, Simmons scored 2 in the fifth end to tie the game at 3, then forced Gunnlaugson to a single in the sixth end to trail 4-3. The seventh end was blanked, with Gunnlaugson then stealing the eighth end for the 5-3 win.

In the semifinals, Gunnlaugson defeated William Lyburn (Winnipeg, MB) 5-2 and Simmons defeated JT Ryan (Winnipeg, MB) 6-1. Ryan and Lyburn earned $1,250CDN and 17.327 ranking points for their semifinal finishes. In the quarterfinals, Gunnlaugson defeated Tanner Lott (Winnipeg Beach, MB) 6-0, Simmons defeated Daniel Birchard (Winnipeg, MB) 6-2, while Ryan defeated Richard Muntain (Pinawa, MB) 5-4 and Lyburn defeated Travis Bale (Winnipeg, MB) 5-4. Bale, Muntain, Birchard and Lott earned $800CDN along with 12.231 ranking points for their quarterfinal finishes.

Gunnlaugson went 4-0 in the 20 team round robin pools qualifying round. In their opening game, Gunnlaugson defeated Kelly Marnoch (Carberry, MB) 9-1, then won against Dylan Johnston (Thunder Bay, NONT) 6-5, Jordan Smith (Winnpeg, MB) 8-1, and against Lott 6-3 in their final qualifying round match to reach the playoff undefated.