Baxter/Dacey win Service Experts Mixed Doubles Classic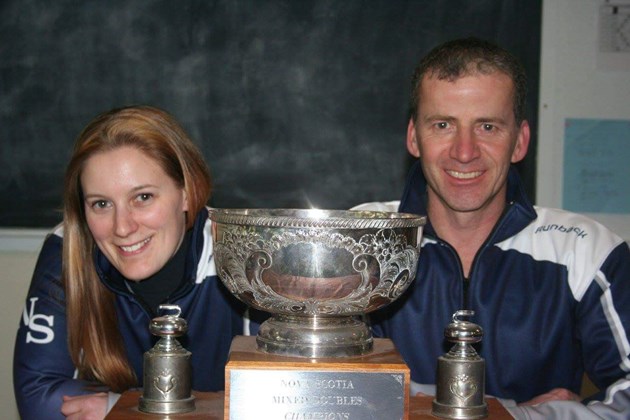 Jenn Baxter/Mark Dacey (Dartmouth, NS) win the Service Experts Mixed Doubles Classic, defeating Heather & David Nedohin (Edmonton, AB) 8-3. Baxter/Dacey take home the $3,800CDN first place cheque while the Nedohins receives $2,300CDN for their second place finish.

Starting with hammer, Baxter/Dacey scored 2 in the first end, then forced the Nedohins to a single in the second end. Baxter/Dacey scored 3 in the third end, then added a steal in the fourth end. The Nedohins scored 2 in the fifth end to cut the deficit to 6-3, when Baxter/Dacey responded in the sixth end scoring 2 for the 8-3 win.

In the semifinals, Baxter/Dacey defeated Hyeji Jang/Ki Jeong Lee (Uiseong, KOR) 7-5 and the Nedohins defeated Rui Wang/Dexin Ba (Harbin, CHN) 8-7. Wang/Ba won $1,600CDN, while Jang/Lee won $1,500CDN for their semifinal finishes. In the quarterfinals, Baxter/Dacey defeated Jie Mei/Jingyuan Wang (Harbin, CHN) 8-5, Nedohins defeated Anastasia Bryzgalova/Alexander Krushelnitskiy (St. Petersburg, RUS) 8-3, while Wang/Ba defeated Maria Komarova/Daniil Goryachev (St. Petersburg, RUS) 7-3 and Jang/Lee defeated Cory Christensen/John Shuster (Duluth, USA) 8-7. Mei/Wang won $1,200CDN, while Christensen/Shuster, Bryzgalova/Krushelnitskiy and Komarova/Goryachev earned $1,100CDN for their quarterfinal finishes.

Baxter/Dacey went 3-1 in the 24 team round robin pools qualifying round. In their opening game, Baxter/Dacey lost 8-7 to Bobbie Sauder/Brendan Bottcher (Edmonton, AB), responded with three wins, 7-6 over Becca Wood/Thomas Usselman (Denver, USA). 10-5 over Komarova/Goryachev, and then against Maureen Stolt/Peter Stolt (Minneapolis, MN) 8-4 in their final qualifying round match.