Kerri Einarson wins GSOC Tour Challenge Tier 2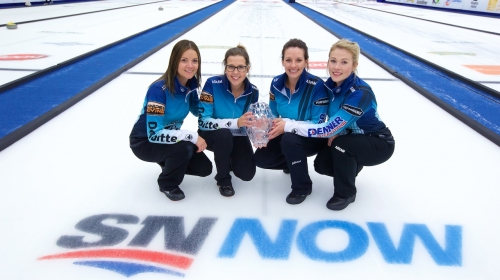 Kerri Einarson (Winnipeg, MB) wins the GSOC Tour Challenge Tier 2, defeating Chelsea Carey (Calgary, AB) 7-4. Einarson with Selena Kaatz at third, Liz Fyfe and Kristin MacCuish on the front end take home the $10,000CDN first place cheque along with 46.113 world ranking points, while Carey receives $8,000CDN and 36.231 world ranking points for their second place finish.

Einarson wins the Tier 2 Championship for the second time, and will receive and all-expenses trip to the Masters of Curing in Lloydminster, Saskatchewan on October 24-30.

After a first end blank, Einarson stole 1 in the second end to take an early lead, then forced Carey to a single in the third end. Einarson scored a single in the fourth end to extend lead to 2-1, after which Carey scored the first deuce in the fifth end. Einarson then scored 3 in the sixth end, forced Carey to a single in the seventh end and then made the open hit for 2 in the eighth end for the 7-4 win.

In the semifinals, Einarson defeated Binia Feltscher (Flims, SUI) 9-1 and Carey defeated Jamie Sinclair (Blaine, USA) 11-3. Feltscher and Sinclair earned $5,000CDN and 27.997 ranking points for their semifinal finishes. In the quarterfinals, Einarson defeated Robyn Silvernagle (North Battleford, SK) 6-4, Carey defeated Kelsey Rocque (Edmonton, AB) 8-5, while Feltscher defeated Anna Sidorova (Moscow, RUS) 8-5 and Sinclair defeated Stefanie Lawton (Saskatoon, SK) 5-4 in an extra end. Lawton, Silvernagle, Sidorova and Rocque earned $3,500CDN along with 19.763 ranking points for their quarterfinal finishes.

Einarson went 3-1 in the 15 team round robin pools qualifying round. In their opening game, Einarson defeated Nancy Martin (Saskatoon, SK) 9-1, then won against EunJung Kim (Uiseong, KOR) 6-2, before losing their next game to Nadine Scotland (Calgary, AB) 5-4. Einarson finished with a 6-1 win over Nina Roth (Blaine, USA) in their final qualifying round match.