Silvana Tirinzoni wins Stu Sells Oakville Tankard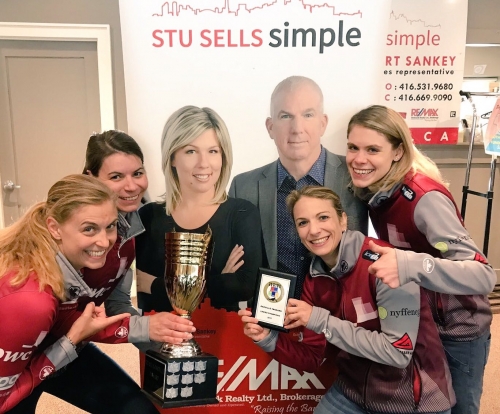 Silvana Tirinzoni (Aarau, Switzerland) wins the Stu Sells Oakville Tankard, defeating Sherry Middaugh (Coldwater, ON) 3-2 at the Oakville Curling Club in Oakville, Ontario, Canada. Tirinzoni joined by Manuela Siegrist, Esther Neuenschwander and Marlene Albrecht take home the $7,000CDN first place cheque along with 52.441 world ranking points, while Middaugh receives $3,600CDN and 41.203 world ranking points for their second place finish.

Tirinzoni opened the scoring stealing 1 in the first end. After a blank end, Middaugh scored a single the third end, Tirinzoni responded with a single in the fourth end to lead to 2-1. After blanking 2 ends, Middaugh scored a single in the seventh end to tie the game, but Tirinzoni scored in the eighth end for the 3-2 win.

In the semifinals, Tirinzoni defeated Anna Hasselborg (Karlstad, SWE) 5-4 and Middaugh defeated Jacqueline Harrison (Mississauga, ON) 6-4. Hasselborg and Harrison earned $2,500CDN and 31.839 ranking points for their semifinal finishes. In the quarterfinals, Tirinzoni defeated Binia Feltscher (Flims, SUI) 4-2, Middaugh defeated Uliana Vasilyeva (St. Petersburg, RUS) 6-4, while Hasselborg defeated Anna Kubeskova (Prague, CZE) 7-3 and Harrison defeated Chrissy Cadorin (Thornhill, ON) 7-2. Kubeskova, Vasilyeva, Cadorin and Feltscher earned $1,850CDN along with 22.475 ranking points for their quarterfinal finishes.

Tirinzoni went 4-1 in the 24 team triple knockout qualifying round. In their opening game, Tirinzoni lost 6-4 to Rhonda Varnes (Winnipeg, MB), then responded with a 7-4 win over Vasilyeva. Tirinzoni won against Feltscher 3-1, then won against Kubeskova 3-2 and won again against Cadorin 6-2 in the B Qualifier to advance to the playoffs.