Switzerland's Tirinzoni Leading Uiseong International Cup Field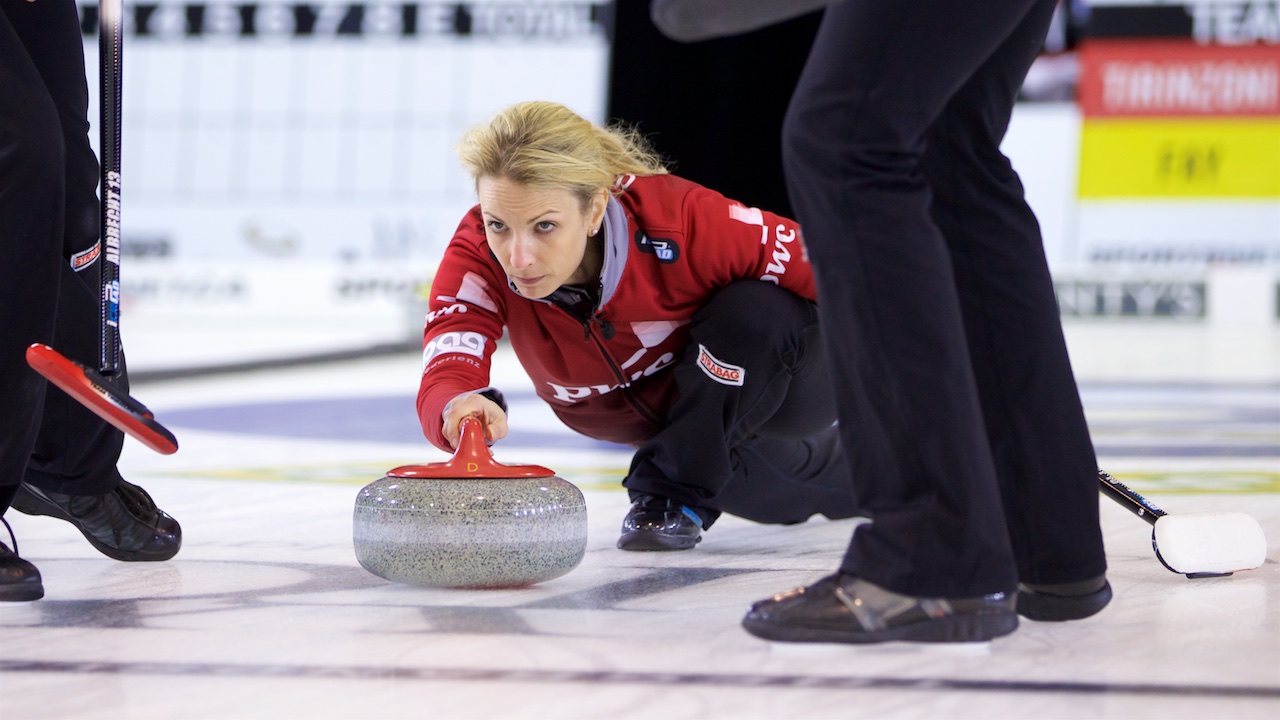 UISEONG, South Korea - Silvana Tirinzoni (photo: Anil Mungal) made the most of her rink's two opportunities today, as the lone team with two wins on the women's side of the draw. The Swiss foursome began the day with a hard-fought 5-4 win against Korea's Min Ji Kim, then came back to defeat Anna Sidorova 7-6 after the Russian let an early lead slip away.

The opening ceremony was held this morning and immediately afterward, the women's team finally got their turn on the ice.

"It wasn't the best-played game, but there were some great shots nevertheless," Tirinzoni said. "It was still a hard fight, and it's never easy to play them because they usually play great and did tonight as well."

Tirinzoni, leading Pool A with Jamie Sinclair and Kim just behind at 1-1, said their continued hard work in the offseason and her team's chemistry plays a big part in her team's success.

"We like to play, be out there and travel the world together," she said. "We usually go to Canada for most of our tournaments, so this is something different. But we like adventure and don't mind to travel and like to experience new stuff and new food."


Watch: Silvana on @TeamTirinzoni's win in an extra tonight against Sidorova, becoming the first 2-0 team on the women's side at the Uiseong International Curling Championship! #curling #WCT pic.twitter.com/iEtdaiGM0A

- CurlingZone (@CurlingZone) September 30, 2019
For the men, day two of the Uiseong International Curling Cup saw a pair of teams improve to 2-0 halfway thru round-robin play after one draw on Monday.
Scott McDonald's Canadian squad is leading Pool A at 2-0 followed by South Korea's SooHyuk Kim who won their lone game yesterday. In Pool B, skip John Shuster has his team atop the group at 2-0 with Canada's Mike McEwen and Joel Retornaz of Italy both right behind at 1-0.
Shuster's rink picked up anther win earlier in the day, defeating South Korea's Chang-Min Kim 8-4. In control up 4-1 after five ends, Kim made the shot of the bonspiel thus far, a triple to remove all three red American stones for three to tie the game.
But the Olympic gold medalists from PyeongChang came right back with a deuce in the seventh and then stole another pair in the eighth for the games final margin.
"They played great, and we had a couple of opportunities to catch a lead," Hamilton said. "Then Chang-Min made one of the nicest triples I've seen this season to get three and tie up the game going into the seventh. They played hard and never quit. It was an absolute grind."
WATCH: @MattJamilton after our tonight against Kim, starting to get into a groove now and also where he's taking @chrisplys for ramen this evening!! #HamFam #Uiseong #curling #BashBros #bromance pic.twitter.com/kMBRDiPcx5

- Team Shuster (@TeamShuster) September 30, 2019
Shuster has a crucial game tomorrow against McEwen, where a win for the Americans could likely seal one of the four playoffs spots on the men's side.
"It's nice to get into a rhythm and being our third event of the year, we're still trying to find our groove and our systems," Hamilton added. "We have a lot of work to do to keep improving, but I think we're on the right track."
After Korea's Jongduk Park got on the board with a single in the second, McDonald answered with one of their own in the next end. However, they wouldn't have hammer the rest of the game, stealing one in the fourth and seventh ends for the win.
Four more draws are scheduled for Tuesday with the playoffs beginning Wednesday evening. Check out worldcurl.com for live score updates as well as a look behind-the-scenes on social media.
Part 1: @Reidarama goes "One-on-One" with his @TeamRCarruthers teammate @C_hodgy. And you don't want to miss this!

(Update: In Part 2 tomorrow, we'll get a detailed update on how Hodgy's silkworm larvae meal went)#curling #Uiseong #HodgydoesKoreancuisine pic.twitter.com/zIGtvXJ82a

- CurlingZone (@CurlingZone) September 30, 2019