Canada's McDonald Wins on opening Uiseong International draw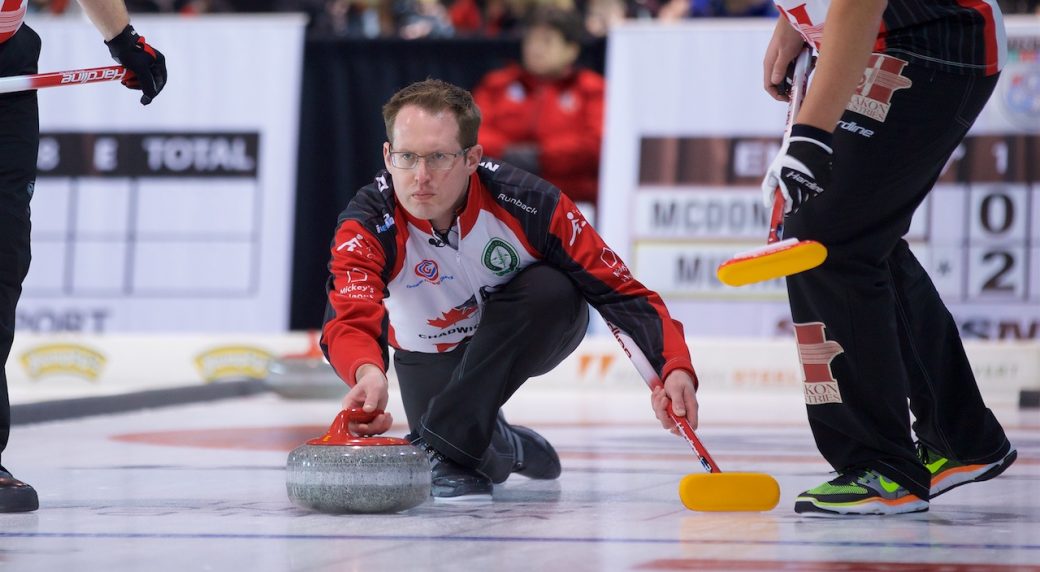 UISEONG, South Korea - The Uiseong International Curling Cup is officially underway with all four opening draw games coming down to the last rock, including Ontario's Scott McDonald (photo by Anil Mungal) winning 5-4 over Matt Dunstone's Saskatchewan rink.

Lying against a pair of Dunstone rocks, McDonald final stone grabbed a piece of the four foot thanks to a good sweep from Wesley Forget and Scott Chadwick for the win. McDonald said his team is having a great time so far and was impressed by how the event has been embraced locally.

"There's been a ton of work that's gone into this event," McDonald said.

"The volunteers have been amazing so far, and you see signage everywhere. They are obviously really excited to have the World Curling Tour in Korea."


.@McDonaldCurling's @WesleyForget and skip Scott McDonald y'all pregame about adjusting to things here in Uiseong!

Live scores: https://t.co/VLdtbjx26v#curling #WCT pic.twitter.com/AMANRPZwy4

- CurlingZone (@CurlingZone) September 29, 2019
But the food was something else that got McDonald's attention.
"The food is really good. There's a lot of spice in things and you have to be really aware of what you're ordering," he said. "It's a new experience which is good."
With Uiseong home to Korea's silver medal-winning team the "Garlic Girls" from 2018 in PyeongChang, Forget was blown away by the quality of the facility locally.
"You just look around at this curling club, it's like a curling centre," Forget said. "And in Canada, we need to follow what they're doing here. This feels like a professional sporting facility, not like a club which is really interesting that we noticed in Japan as well."
McDonald's rink returns to action tomorrow against Korea's Park Jong Duk.
2018 Winter Olympic Gold medalist Team Shuster played its first game on Korean soil since its historic win in PyeongChang and delivered once again. Shuster drew for a 5-3 win on his final rock to avoid an extra end against Ontario's Glenn Howard.
Vice-skip Chris Plys said they had a little extra motivation tonight after letting a late lead slip away the last time the two teams matched up.
WATCH: @chrisplys after our win tonight against @TeamGlennHoward before jetting off for a delicious ramen postgame dinner.#TeamShuster #curling #WCT #Uiseong pic.twitter.com/DiiIIggFLn

- Team Shuster (@TeamShuster) September 29, 2019
"Last time we played Glenn, he beat made a beauty to beat us, so we had been thinking about that one," Plys said. "John made two really good shots in the seventh to get the blank and then Steiner made two tics in the eighth to make our life easier (coming home).
"We left a few shots out there, but we'll go get some ramen noodles tonight and regroup to get ready for tomorrow."
Trailing 4-3 after seven ends, Italy's Joel Retornaz got a single in the eighth to and then stole the extra-end for a 5-4 win over Korea's Chang Min. In an all-Koran battle on sheet D, Soohyuk Kim won it with a deuce in the eighth to edge Jongduk Park 7-6.
Three more draws are scheduled for Monday following the opening ceremonies in the morning. Check out
worldcurl.com
for live score updates as well as a look behind-the-scenes on social media.