Silvana Tirinzoni wins LGT World Women's Championship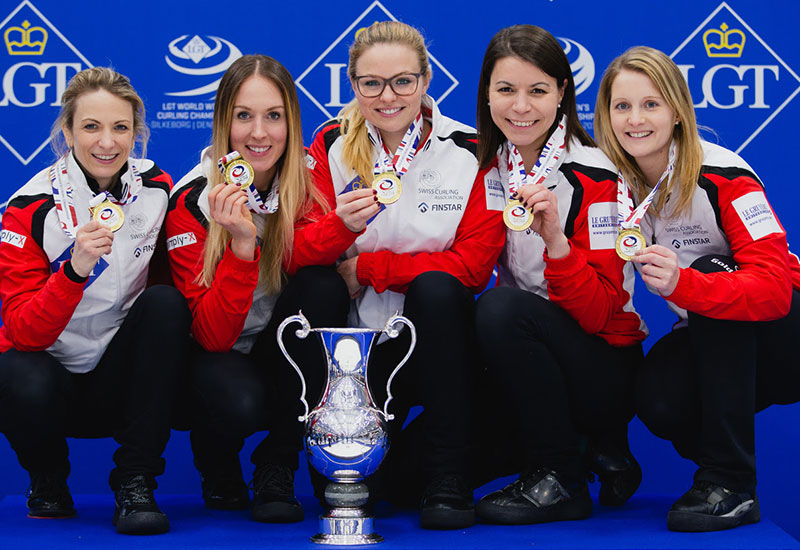 Silkeborg, Denmark - Switzerland won the LGT World Women's Curling Championship 2019 on Sunday in the Silkeborg Sportscenter, with a 8-7 extra end victory over Sweden.

This was the fifth gold medal for Switzerland since 2012 and a first for this team line-up, of skip Silvana Tirinzoni, fourth Alina Paetz, second Esther Neuenschwander and lead Melanie Barbezat. This team was supported by alternate Marisa Winkelhausen and coach Manuela Netzer.

After the final Tirinzoni said, "We are a new team and we thought we would try it out and try for some success. Now we are world champions - unbelievable!"

Sweden, for whom this is a second silver medal in as many years, were skip Anna Hasselborg, third Sara McManus, second Agnes Knochenhauer and lead Sofia Mabergs. They were supported by alternate Johanna Heldin and Wayne Middaugh.

At the medal ceremony China's fourth player Rui Wang was awarded the Frances Brodie Award, as voted for by all the athletes that competed in the worlds. The award is given to the athlete that "best exemplified the values of skill, honesty, fair play, friendship and sportsmanship".

Earlier on Sunday, Korea won their first world medals, collecting bronze, with a 7-5 win over Japan. Korea were skip Minji Kim, third Hyerin Kim, second Taei Yang and lead Sujin Kim. The team's coach was Sungjun Lee.