Ursi Hegner wins Glynhill Ladies International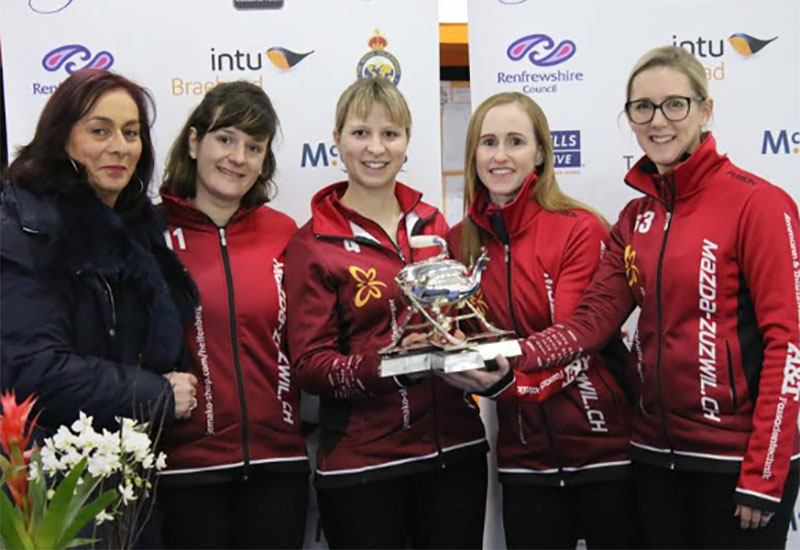 Ursi Hegner (Uzwil, Switzerland) wins the Glynhill Ladies International, defeating Elena Stern (Oberwallis, Switzerland) 5-3 at Braehead in Glasgow, Scotland. Hegner as skip throwing third stones with Michele Jaeggi throwing the last stones and Nina Ledergerber and Claudia Baumann on the front end take home the $6,980CDN first place cheque along with 36.002 world ranking points, while Stern receives $3,490CDN and 26.402 world ranking points for their second place finish.

After a first end blank, Hegner stole 3 in the second end to take an early lead, then forced Stern to a single in the third end. Stern added steals in the fourth and fifth ends. After blanking 2 ends, Hegner scored 2 in the eighth end to win 5-3.

In the semifinals, Hegner defeated Isabella Wrana (Stockholm, Sweden) 5-4 in an extra end and Stern defeated Tova Sundberg (Ostersund, Sweden) 8-0. Sundberg and Wrana earned $1,745CDN and 20.401 ranking points for their semifinal finishes. In the quarterfinals, Hegner defeated Tori Koana (Fujiyoshida, Japan) 7-6 in an extra end, Stern defeated Binia Feltscher (Flims, Switzerland) 7-5, while Sundberg defeated Daniela Jentsch (Fuessen, Germany) 8-5 and Wrana defeated Anna Sidorova (Moscow, Russia) 4-3. Feltscher, Koana, Jentsch and Sidorova earned $873CDN along with 14.401 ranking points for their quarterfinal finishes.

Hegner went 3-0 in the 16 team round robin pools qualifying round. In their opening game, Hegner defeated Feltscher 5-4, then won against Lisa Davie (Stirling, Scotland) 8-3 and against Rebecca Morrison (Stirling, SCO) 5-4 in their final qualifying round match.