Rachel Homan wins Meridian Canadian Open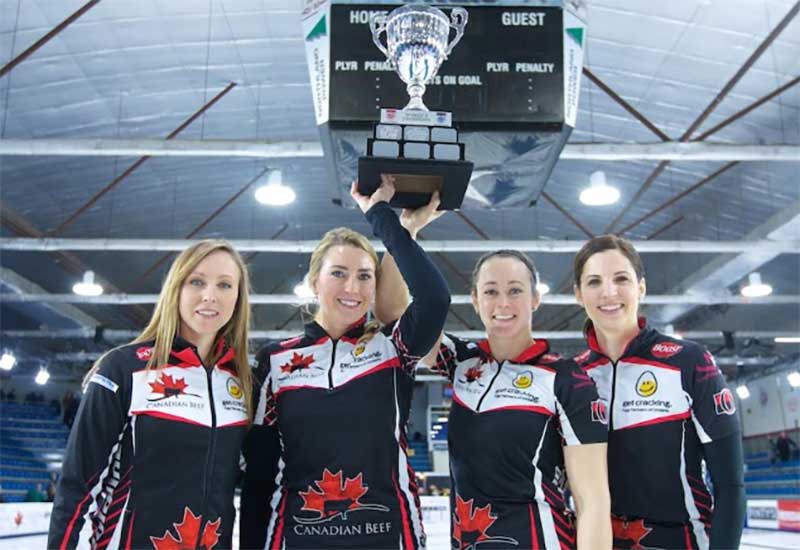 Rachel Homan (Ottawa, Ontario) wins the Meridian Canadian Open, defeating Silvana Tirinzoni (Aarau, SUI) 4-3 at the Civic Centre in North Battleford, Saskatchewan. Homan with Emma Miskew at third, Joanne Courtney and Lisa Weagle on the front end take home the $30,000CDN first place cheque along with 90.492 world ranking points, while Tirinzoni receives $18,000CDN and 66.361 world ranking points for their second place finish.

Tirinzoni opened the scoring stealing 1 in the first end, then forced Homan to a single in the second end. After 2 blank ends, Homan stole the fifth end, then added another steal in the sixth end to lead 3-1. Tirinzoni scored 2 in the seventh end to tie the game at 3 with Homan scoring a single in the eighth end for the 4-3 win.

In the semifinals, Homan defeated Nina Roth (Chaska, USA) 6-4 and Tirinzoni defeated Eve Muirhead (Stirling, Scotland) 8-4. Roth and Muirhead earned $12,000CDN and 51.279 ranking points for their semifinal finishes. In the quarterfinals, Homan defeated Casey Scheidegger (Lethbridge, Alberta) 4-3, Tirinzoni defeated Robyn Silvernagle (North Battleford, Saskatchewan) 6-1, while Roth defeated Laura Walker (Edmonton, Alberta) 6-3 and Muirhead defeated Chelsea Carey (Edmonton, Alberta) 10-3. Silvernagle, Carey, Scheidegger and Walker earned $8,000CDN along with 36.197 ranking points for their quarterfinal finishes.

Homan went 3-0 in the 16 team triple knockout qualifying round. In their opening game, Homan defeated Walker 8-5, then won against Darcy Robertson (Winnipeg, Manitoba) 6-3 to advance to the A-event qualifier where they won 8-3 against Silvernagle to advance to the playoff round.