Championship Sunday set for Meridian Canadian Open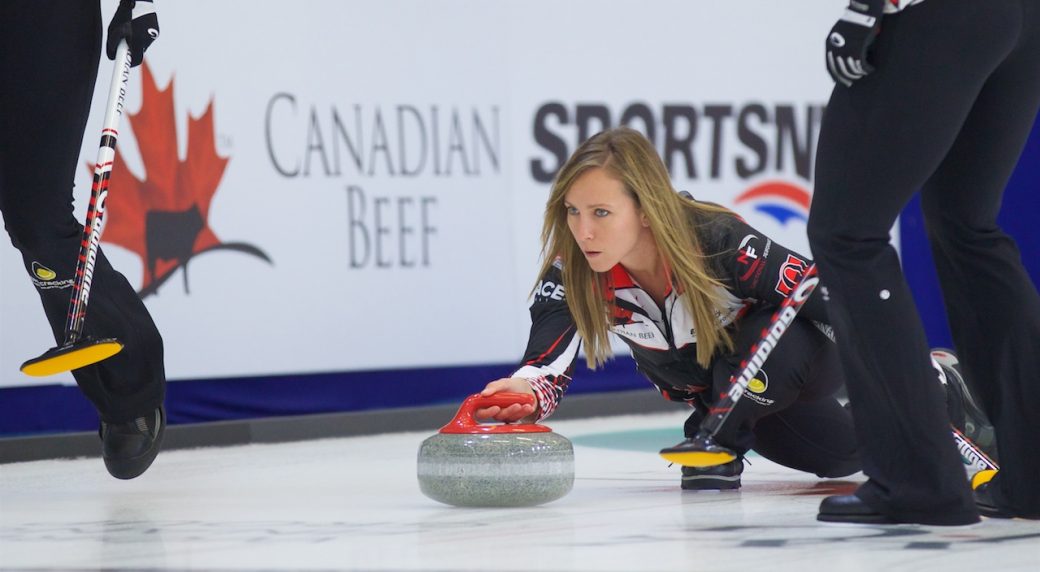 NORTH BATTLEFORD, Sask -- Jon Brazeau/Sportsnet -- Ottawa's Rachel Homan (Photo: Anil Mungal) is through to a fourth consecutive final in the Pinty's Grand Slam of Curling.

Team Homan trumped Team Nina Roth of the United States 6-4 Saturday night to reach the Meridian Canadian Open women's championship match.

Homan finished runner-up at the Canadian Beef Masters, captured the Tour Challenge and Boost National trophies back-to-back and is now one win away from becoming the first women's skip to hit double-digit title wins in the series. The 29-year-old Homan is currently tied with Winnipeg's Jennifer Jones at nine Pinty's Grand Slam of Curling women's championships each.

The crew of Homan, third Emma Miskew, second Joanne Courtney and lead Lisa Weagle have been on a red-hot run winning nine consecutive Pinty's Grand Slam of Curling games with an impressive 26-6 overall win-loss record in the series on the season.

"It's really exciting to come off of a few weeks of not curling and getting some rest and relaxation and then coming right back at it getting to another final," Homan said. "The girls played so good and we're just learning with every rock, so we've just got to keep doing what we're doing."

Homan qualified through the A-side of the triple knockout at 3-0 and shaded Team Casey Scheidegger of Lethbridge, Alta., 4-3 earlier in the quarterfinals.

The world No. 1 Homan opened the semifinal against Roth with the hammer and converted in the first frame pinballing the house with an impressive shot for a deuce. Roth countered with a couple in the second to tie it up, but Homan got cracking in the third and chipped out the shot stone to score three.

Roth flubbed on the draw for two in the fourth landing on top of Homan's rock to only get the shot rock single. The teams alternated lone points in five and six and Homan continued to control the second half blanking seven and doubling Roth out of rocks with her first skip stone in eight.

"They were playing really well and playing a lot of offence," Homan said. "We just had to keep sticking with it, picking our battles and trying to make sure that we're forcing when they had hammer and we were able to do that a few times."

Team Homan faces Team Silvana Tirinzoni in Sunday's final after the Swiss side shelved Scotland's Team Eve Muirhead 8-4.

Tirinzoni qualified out of the C-side Friday night with a 3-2 record and ousted North Battleford's own Team Robyn Silvernagle 6-1 in the quarterfinals.

Meanwhile, Toronto's Team John Epping won more games Saturday at the Meridian Canadian Open than they had during the rest of the week grinding out three consecutive victories to secure a spot in the men's final.

Team Epping started the day bright and early edging out Team Peter de Cruz of Switzerland 5-3 in the morning C Event finals to qualify for the playoffs at 3-2 and eliminated Calgary's Team Kevin Koe 6-4 during the afternoon quarterfinals in a repeat of October's Canadian Beef Masters men's final.

Epping capped the night with a commanding 9-1 victory over Sweden's Team Niklas Edin, who also came out of the C-side and were playing in their third game of the day, too.

"I've always said adrenaline is a beautiful thing and it definitely kept us going today because we were up at 5:35 this morning when the alarm rang," Epping said. "It feels great.

"The big thing for us is to just build some momentum going into our provincial playdowns, which are in a couple of weeks and then have another great Slam and stay in the mix for the Pinty's Cup and to have a chance to win a Slam because they are extremely hard to win."

After Epping's Canadian Beef Masters title victory, the team struggled in the series missing the playoffs at the Tour Challenge and Boost National but were able to turn their fortunes around to return to another Pinty's Grand Slam of Curling championship game.

"We were struggling to put, let's say, eight shots in a row together each end and finally today we were able to do that and we're setting up the ends great," said Epping, who has won three titles in the series as a skip including the 2015 Meridian Canadian Open. "I made some good ones and those will turn into wins."

Although Team Edin threw at 84 per cent as a unit, their skip struggled -- delivering at a 53 per cent clip -- and Epping capitalized early scoring four in the first frame.

"That's what curling is all about and in order to win you need some breaks to go your way," Epping said. "We definitely had a fortunate break in the first end and took advantage of it. Then we were pretty solid the rest of the way."

Edin was held to his lone point in the second stanza and Epping scored a deuce in the third followed by steals of one in the fourth and two in the fifth for early handshakes. Epping kept the defensive pressure on even with the four-point lead to start as the five-rock rule had the potential for Edin to generate offence and charge back.

"It's hard to defend with the five-rock rule," Epping said. "You always know and the way they throw the rock so hard, you never really feel safe out there with them."

Epping plays Edmonton's Team Brendan Bottcher, who scored two in the eighth end to turf Team Brad Gushue of St. John's, N.L., 6-5.

Although it's only Bottcher's second Pinty's Grand Slam of Curling event of the season, it's his second final after finishing runner-up to Team Brad Jacobs of Sault Ste, Marie, Ont., in November's Tour Challenge. Bottcher qualified A-side at 3-0 and knocked out Jacobs 5-2 in the quarterfinals.

The men's final gets underway first at 12:30 p.m. ET / 11:30 p.m. CT on Sportsnet East, West and Pacific, Sportsnet 360 and CBC followed by the women's final at 4 p.m. ET / 3 p.m. CT on Sportsnet and Sportsnet 360.

Online streaming is available at Sportsnet NOW (Canada) and Yare (international).

NOTES: The Meridian Canadian Open is the fifth event and third major of the 2018-19 Pinty's Grand Slam of Curling season. ... Standard Pinty's Grand Slam of Curling rules apply: games are played to eight ends, the five-rock rule is in effect and teams receive 33 minutes of thinking time plus two, 90-second timeouts. ... The combined purse is $250,000 with the winning teams earning $30,000 plus berths to the season-ending Humpty's Champions Cup.