Homan, Muirhead, Bottcher and Mouat qualify at Meridian Canadian Open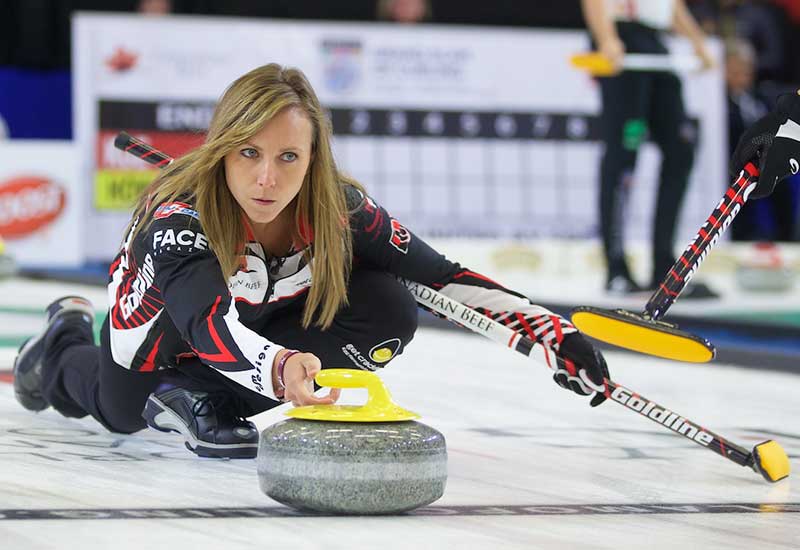 NORTH BATTLEFORD, Sask - Jon Brazeau/Sportsnet - Rachel Homan and her Ottawa-based club have carried over their momentum from last year into 2019.

Homan, who won back-to-back Pinty's Grand Slam of Curling titles to close out the calendar, is now all clear through to Saturday's quarterfinals at the Meridian Canadian Open.

Team Homan scored two sets of three-enders and stole a pair of points to cruise to an 8-3 victory over hometown favourites Team Robyn Silvernagle during Thursday's A-finals to qualify for the playoffs with an undefeated 3-0 record.

The team of Homan, third Emma Miskew, second Joanne Courtney and lead Lisa Weagle have now won seven consecutive Pinty's Grand Slam of Curling games with a stellar 24-6 overall win-loss record in the series on the season.

"It feels great to know that we're into the playoffs and to go A-side," Weagle said. "The team's been playing really well and just continuing what we were doing at the end of last year."

Homan captured her record-tying ninth Pinty's Grand Slam of Curling title last month at the Boost National and is eyeing double digits, however, it wasn't all business during the holiday break with the team getting a chance to relax before preparing for the Meridian Canadian Open.

"We had a really great time over the holidays," Weagle said. "We all got to spend some time with our families. We had Emma's wedding, which was really exciting. Then we regrouped and were able to practise together and really gear up for this event."

Silvernagle started with the hammer but was held to just a single in the first. Homan counted her first trio in the third end and Silvernagle knotted it up with a deuce in four. It was all Homan from there for the final couple stanzas dropping another trey in five and stealing two in six when Silvernagle missed the runback on her last and shook hands.

Team Homan curled 91 per cent as a unit with the skip earning high marks firing at a 94 per cent rate.

"Both teams played really well," Weagle said. "The crowd was really into it and cheering for both teams, which is nice when you're playing against a hometown team. Both teams made some really good shots."

The Meridian Canadian Open features a triple knockout bracket preliminary round where teams must win three games before they lose three in order to qualify for the playoffs.

Scotland's Team Eve Muirhead also advanced at 3-0 following an 8-5 victory over Japan's Team Satsuki Fujisawa. Silvernagle and Fujisawa (both 2-1 records) fell into the B Event finals.

Team Silvernagle will now take on Team Silvana Tirinzoni after the Swiss side clipped Sweden's Team Anna Hasselborg 5-4. Team Fujisawa will play Team Laura Walker after the Edmonton club beat Tracy Fleury of East St. Paul, Man., 4-3 during the evening draw.

Defending champions Team Casey Scheidegger of Lethbridge, Alta., got back on track in the B-side with an 8-4 decision against Winnipeg's Team Jennifer Jones and are one win away from returning to the playoffs. Team Scheidegger meet Team Nina Roth in the third B-qualifier following the U.S. squad's 9-7 extra-end victory over Winnipeg's Team Darcy Robertson.

Robertson, Jones, Hasselborg and Fleury dropped into the C Event with 1-2 records and must win out in order to stay in contention.

Meanwhile, Edmonton's Team Brendan Bottcher and Team Bruce Mouat of Scotland became the first to advance to the men's playoffs.

Bottcher defeated Peter de Cruz's Swiss squad 9-5 and Mouat nipped Team Glenn Howard of Penetanguishene, Ont., 4-3 in the men's A-finals during the early afternoon draw.

Despite the undefeated 3-0 run, Bottcher doesn't believe his team has brought its A game just yet with almost 48 hours to prepare for the playoffs.

"It feels like we've done just enough to sort of squeak through our first few," Bottcher said. "I think we'll need to throw some practice rocks and hopefully, we're sharp on Saturday."

Bottcher jumped out of the gate dropping a four-ender in the opening end but had to fend off De Cruz down to the wire with the five-rock rule enabling his opponent to stay in the game.

"In five-rock curling, you're not done until the other team shakes, especially when you get a big end early," Bottcher said. "It's also a little hard to play seven ends of defence, just mentally it's hard to be in the game. It's hard to make everything perfect and they made a couple great shots. They had a guaranteed steal of one in seven and they were really close to having a guaranteed steal of one in eight."

De Cruz stole a point in seven to close within one at 6-5 and threatened to steal the victory in eight sitting multiple rocks in the house. Bottcher anticipated conceding another to force an extra end, but third Darren Moulding placed the broom in the right spot for them to pull off a perfect triple and add three insurance markers.

"I even left my broom down at the other end," Bottcher said. "As far as I was concerned, a double there was great. There was a sliver in the middle where the triple was there but if it curls a half centimetre more we might not get either of the two side ones out and then we lose. I was really trying to make sure that we got the two and then Darren knew where we had to hit it to maybe get lucky."

The defending men's champion De Cruz (2-1) dropped to the B Event and now meets Team Brad Gushue of St. John's, N.L., after they slipped past Team Scott McDonald of Kingston, Ont., 5-3.

Howard (2-1) plays Brad Jacobs following the Sault Ste. Marie, Ont., club's 7-6 decision against Team Braden Calvert in the evening.

Calgary's Team Kevin Koe clipped Regina's Team Matt Dunstone 5-2 in the evening to reach the third and final men's B-qualifier. Koe will collide with Sweden's Team Niklas Edin, who topped Toronto's Team John Epping 8-4.

Winnipeg's Team Jason Gunnlaugson is staying alive in the C-side with a 9-3 victory over Saskatoon's Team Kirk Muyres. Gunnlaugson (1-2) grabbed his first win while Muyres, who captured the Tour Challenge Tier 2 title to earn a spot in the event, is the first one out of the tournament heading home winless at 0-3.

Action continues Friday at 8 a.m. local time with broadcast coverage resuming at 12:30 p.m. ET on Sportsnet, Sportsnet NOW (Canada) and Yare (international).

NOTES: The Meridian Canadian Open is the fifth event and third major of the 2018-19 Pinty's Grand Slam of Curling season featuring 16 of the top men's teams and 16 of the top women's teams from around the globe. ... Standard Pinty's Grand Slam of Curling rules apply: games are played to eight ends, the five-rock rule is in effect and teams receive 33 minutes of thinking time plus two, 90-second timeouts. ... The combined purse is $250,000 with the winning teams earning $30,000 plus berths to the season-ending Humpty's Champions Cup.