USA's Sarah Anderson/Korey Dropkin wins Qualico Mixed Doubles Classic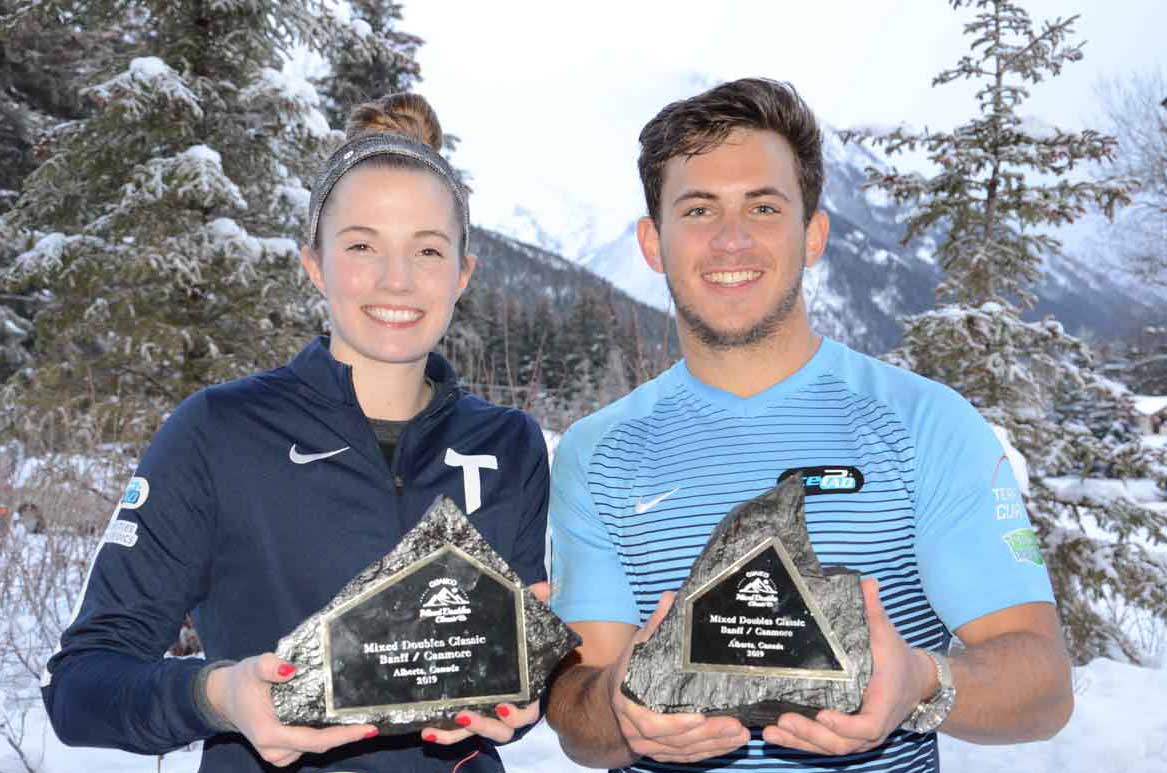 Sarah Anderson/Korey Dropkin (Minneapolis, USA) wins the Qualico Mixed Doubles Classic, defeating Jocelyn Peterman/Brett Gallant (Winnipeg, Manitoba) 9-4 at the Banff Curling Club in Banff, Canada. The Qualico Mixed Doubles Classic was a joint competition with 36 teams from around the world held at the Banff and Canmore Curling Clubs. Anderson/Dropkin take home the $10,000CDN first place cheque, while Peterman/Gallant receives $5,000CDN and 0.000 world ranking points for their second-place finish. This season the inaugural Qualico Mixed Doubles Classic joined the ISS World Mixed Doubles Tour as a major tournament on the calendar schedule with a $29,000CDN purse.

Starting with hammer, Anderson/Dropkin scored 2 in the first end, when Peterman/Gallant responded in the second end scoring 2. Anderson/Dropkin scored 2 in the third end, then forced Peterman/Gallant to a single in the fourth end to lead 4-3. The game was tied by a steal for Peterman/Gallant in the fifth end when Anderson/Dropkin blew open the game scoring 5 in the sixth end for the 9-4 win.

In the semifinals, Anderson/Dropkin defeated Chelsea Carey/Colin Hodgson (Calgary, Alberta) 8-6 and Peterman/Gallant defeated Danielle Schmiemann/Jason Ginter (Edmonton, Alberta) 8-2. Carey/Hodgson and Schmiemann/Ginter earned $2,000CDN for their semifinal finishes. In the quarterfinals, Anderson/Dropkin defeated Laura Walker/Geoff Walker (Edmonton, Alberta) 6-3, Peterman/Gallant defeated Kaitlyn Lawes/John Morris (Canmore, Alberta) 6-5, while Carey/Hodgson defeated Jennifer Jones/Brent Laing (Winnipeg, Manitoba) 7-2 and Schmiemann/Ginter defeated Kristin Moen Skaslien/Magnus Nedregotten (Oslo, Norway) 8-4. Lawes/Morris, Skaslien/Nedregotten, Jones/Laing and Walker/Walker earned $1,500CDN for their quarterfinal finishes.

Joining the top 8 in in the playoffs, Shannon Birchard/Catlin Schneider (Winnipeg, Manitoba), Marlene Albrecht/Matt Wozniak (Zurich, Switzerland), Anna Fowler/Ben Fowler (London, England) and Nadine Scotland/Charlie Thomas (Calgary, Alberta) come away with a $1,000CDN prize.

Anderson/Dropkin went 5-0 in the 36 team round robin pools qualifying round. In their opening game, Anderson/Dropkin defeated Sherry Just/Sam Wills (Fox Valley, Saskatchewan) 9-2, won against Birchard/Schneider 9-8, against Jenny Perret/Martin Rios (Glarus, Switzerland) 7-6 and Karen Dreaver/Tim Birnie (Canmore, Alberta) 8-0 going on to finish the round robin undefeated with a win against Kirsten Silcox/Jason Keerak (Calgary, Alberta) 8-0 in their final qualifying round match.

---

ISS Ice, Sports & Solar is title sponsor of the ISS WORLD MIXED DOUBLES TOUR. They are supplying excellence in building 1st class Ice Facilities around the world since 1981. The German based company has also supplied the Curling Ice for the 2016 Men's World in Basel and the 2014 Mixed Doubles and Seniors in Dumfries. In 2017 they built the test Curling Sheets in the Water Cube Beijing for the 2022 Olympics.
Find out more on https://iss4u.de/?lang=en.