Shuster on a roll at Karuizawa International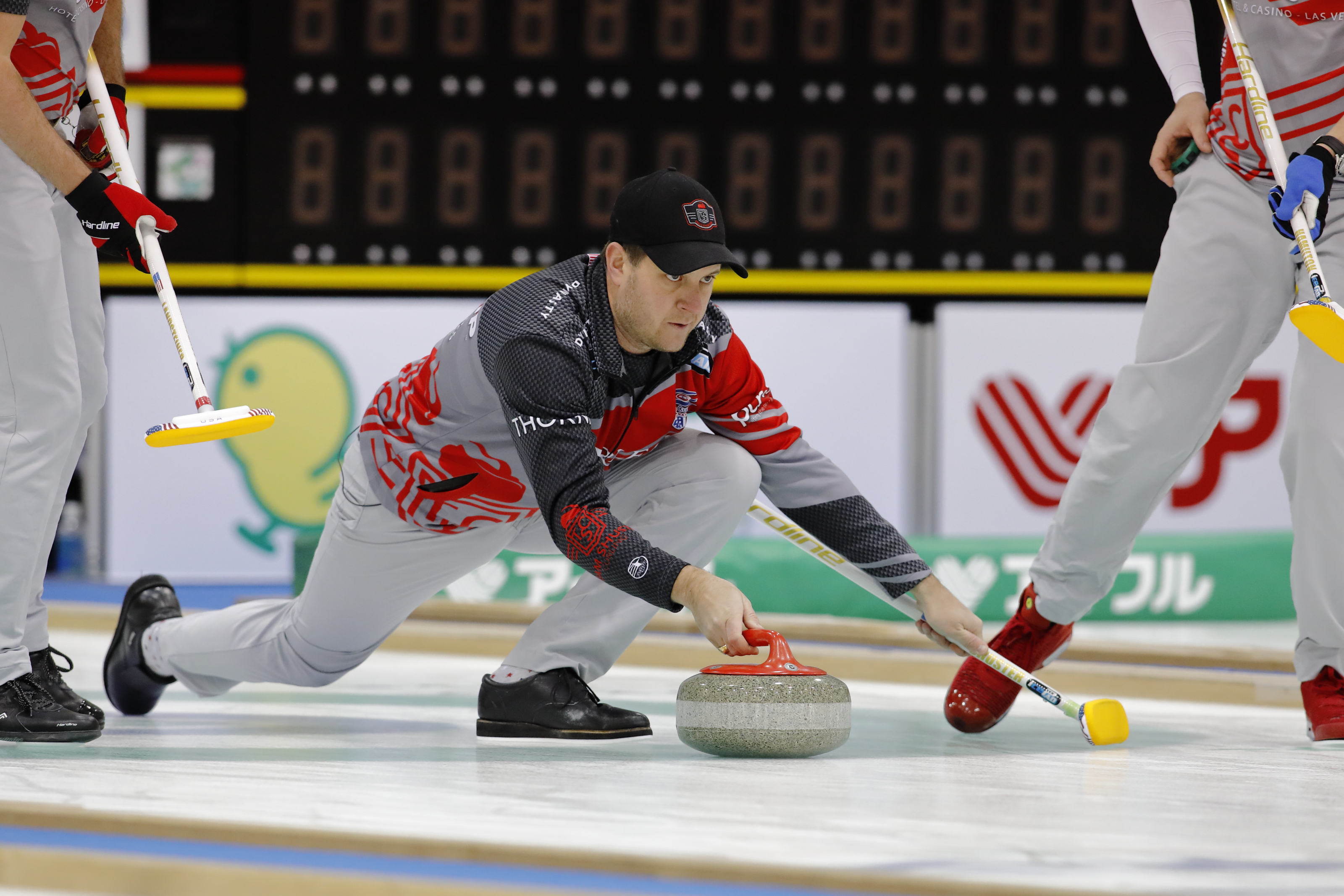 For the United States' John Shuster (photo: Masaru Unno), the last 10 months since winning the Olympic Gold medal has been much more relaxed in competition. As a result, the games so far this week at the Karuizawa International for his Duluth-based team of Chris Plys, Matt Hamilton and John Landsteiner have come together seemingly with ease.

"Winning the Olympics has really taken the pressure off, now our goals are more season oriented," said Shuster after posting a 5-4 win over Ryo Ogihara to improve to 3-0 in the round-robin. "Playing well will always help our confidence level, and our whole team has had a pretty solid year, so it makes it pretty easy to throw the rock."

"The team's been off to a good start; we've played three pretty good games. We had some struggles within them, but we've battled. We're liking the ice and the tournament, and looking forward to our final round robin game and the playoffs."

For Canada's Reid Carruthers, this week has been part of a continued tinkering as they've set up the lineup with Reid throwing last and calling the game.

"We had made this decision about a month ago to decide to tinker with the lineup and try a couple of different combinations, and this was one of them," said Carruthers following their third win, a 6-2 decision over Korea's Jongduk Park. U

"Today I thought we were playing the good teams and we knew we'd have to play well. They started with the hammer, and they got off to the one point lead. For us, I had a chance to for two in one of the ends early, and I missed it putting us behind the eight-ball."

"I thought we played well in the second half of the game and took control."

Joining Shuster and Carruthers at 3-0 and undefeated was Japan's Masaki Iwai, a first-timer at the Karuizawa International and reigning Japanese champion.

"I am feeling good, and our team has been strong allowing us to win three games so far," said Iwai through a translator after their 4-3 win over Shingo Usui to stay undefeated at three wins.

"Yesterday morning, Aoki felt some soreness in his leg after getting out of the car, so as a precaution he will not participate in this tournament because the World Junior Championship B coming up soon."

For Iwai, missing regular fourth-rock thrower Go Aoki has caused an adjustment to the lineup, but the team has come together and focused on their roles.

"I have not experienced this role as it has been some time since I have thrown last, but we're winning right now, so it feels like I have been playing the role properly."

For Iwai, the change has led the team to work on their communication and made them focus on the details.

"The lineup situation is different, so I want to communicate with the team and include everyone in the decisions."

Play at the Karuizawa International goes on through the weekend with the playoffs beginning on Saturday afternoon and the championship finals on Sunday afternoon.