Japan's Satsuki Fujisawa wins Curling World Cup Omaha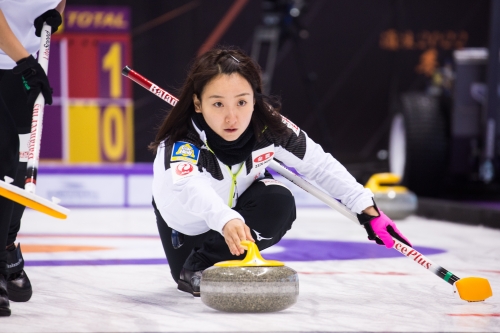 Omaha, United States -- Japan's Satsuki Fujisawa (Photo: Celine Stucki, WCF) earned their way to the Curling World Cup Grand Final in Beijing, China, next May with a win over Korea 7-6 in the women's final.

Korea's Team Minji Kim had the hammer and a 6-5 lead going into the eighth end at the Ralston Arena, but were left with a draw against three points for the win.

Needing to hit the full eight-foot to win, Kim's final shot was too heavy, sliding to the back of the eight-foot. Japanese skip Satsuki Fujisawa, third Chinami Yoshida, second Yumi Suzuki and lead Yurika Yoshida celebrated a steal of two and a victory that had looked unlikely at many points throughout the contest.

Korea had made the first big move of the final by scoring four in the second end and they led 5-3 at the fourth-end break. That was extended to 6-3 with a steal - and but for a close measure it could have been 7-3.

There was a further setback for Japan when they were off-target with a nose hit in the sixth end that could have earned them two and headed into the last two ends 6-4 down.

However, Kim's failed attempted at a run-back in the seventh end gave Japan a steal of one and hope heading into the last trailing 6-5.

Korea had the hammer, but Japan were soon lying three - evenly spread around the house. Kim overshot her final stone and Japan's tickets to the Curling World Cup Grand Final in Beijing were booked for May.

"I'm just so happy," Fujisawa beamed afterwards. "We didn't win any championship so I'm very excited. We have great sweepers and good team-mates and we had a really good game. We are very happy that we now get to play in Beijing."

Korean skip Kim was understandably more downcast, saying: "In this game we made many mistakes so we will have to try to adjust our teamwork like our sweeping and we will reset.

"The first four ends, we were very confident with our shots but the last four ends we couldn't control our timing so I was rushing on my shots. Since we are so young we have many chances in the future. We have kept the same team since we were in high school, so hopefully we will get another chance."

As well as a place in the Grand Final and $USD 20,000 (plus $USD 7,500 in round-robin earnings), Team Fujisawa avenged their loss to the same opponents in the recent Pacific-Asia Curling Championships final.