Jean-Sebastien Roy wins Challenge Casino de Charlevoix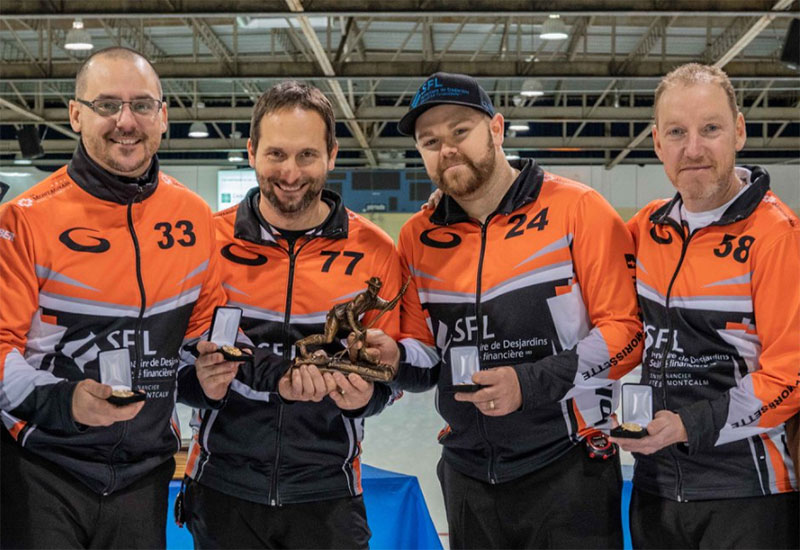 Jean-Sebastien Roy (Saguenay, Quebec) wins the Challenge Casino de Charlevoix, defeating Michael Fournier (Montreal, Quebec) 8-4 at the Clermont Arena in Clermont, Quebec. Roy with Robert Desjardins at third, Pierre-Luc Morissette and Rene Dubois on the front end take home the $8,000CDN first place cheque along with 29.213 world ranking points, while Fournier receives $5,000CDN and 21.423 world ranking points for their second place finish.

Starting with hammer, Roy scored 3 in the first end for the early advantage. After a blank end, Fournier scored 2 in the third end, with Roy forced to a single in the fourth end. Roy added a steal in the fifth end to lead 5-2 with Fournier responding in the sixth end scoring 2. Roy scored 3 in the seventh end going on to win 8-4.

In the semifinals, Roy defeated Chad Stevens (Halifax, Nova Scotia) 5-4 and Fournier defeated James Grattan (Oromocto, New Brunswick) 7-2. Grattan and Stevens earned $3,000CDN and 16.554 ranking points for their semifinal finishes. In the quarterfinals, Roy defeated Stuart Thompson (Dartmouth, Nova Scotia) 9-4, Fournier defeated Kendal Thompson (Halifax, Nova Scotia) 7-2, while Grattan defeated Steven Munroe (Quebec, Quebec) 6-2 and Stevens defeated Martin Ferland (Trois-Rivieres, Quebec) 7-4. Thompson, Thompson, Munroe and Ferland earned $2,000CDN along with 11.685 ranking points for their quarterfinal finishes.

Roy went 3-1 in the 18 team triple knockout qualifying round. In their opening game, Roy defeated Brent MacDougall (Halifax, Nova Scotia) 7-3, won against Grattan 6-4 to advance to the A-Qualifier where they lost 9-3 to Stevens 9-3. Roy dropped to the B-Qualifier where they responded with a 8-5 win over Martin Crete (St-Romuald, Quebec) in to advance to the playoff round.