John Epping wins Canadian Beef Masters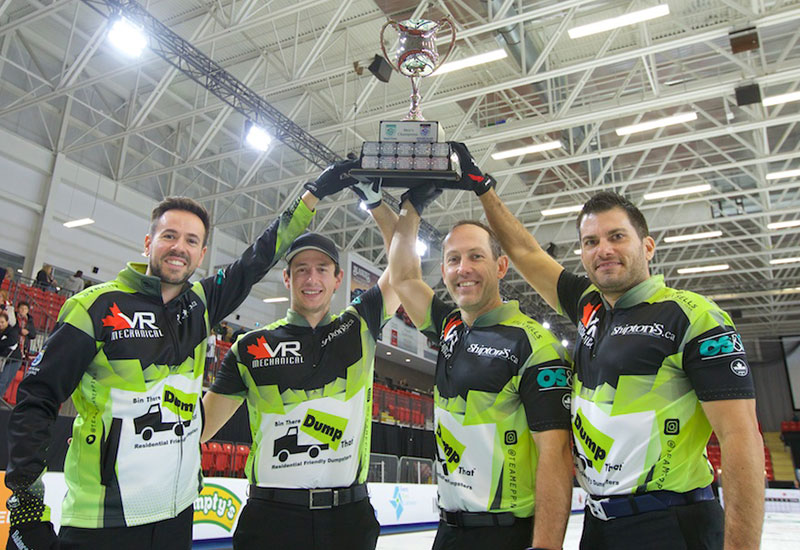 John Epping (Toronto, Ontario) wins the Canadian Beef Masters of Curling, defeating Kevin Koe (Calgary, Alberta) 7-4 at the Rath-Eastlink Community Centre in Truro, Nova Scotia. Epping with Mathew Camm at third, Brent Laing and Craig Savill on the front end take home the $30,000CDN first place cheque along with 85.836 world ranking points, while Koe receives $18,000CDN and 62.946 world ranking points for their second place finish.

Starting with hammer, Koe scored 1 in the first end, when Epping responded in the second end scoring 2. After a blank end, Epping stole the fourth end, then added another steal of 2 in the fifth end. Koe scored 2 in the sixth end to trail 5-3, then added a steal in the seventh end close the deficit to one, but Epping scored 2 in the eighth end for the 7-4 win.

In the semifinals, Epping defeated Niklas Edin (Karlstad, Sweden) 8-3 and Koe defeated Bruce Mouat (Stirling, Scotland) 6-5. Mouat and Edin earned $12,000CDN and 48.640 ranking points for their semifinal finishes. In the quarterfinals, Epping defeated Ross Paterson (Glasgow, Scotland) 9-5, Koe defeated Matt Dunstone (Regina, Saskatchewan) 6-4, while Mouat defeated John Shuster (Duluth, USA) 9-3 and Edin defeated Brad Gushue (St. John's, Newfoundland & Labrador) 4-2. Shuster, Dunstone, Paterson and Gushue earned o$9,000CDN along with 34.334 ranking points for their quarterfinal finishes.

Epping went 3-1 in the 15 team round robin pools qualifying round. In their opening game, Epping defeated Yannick Schwaller (Bern, Switzerland) 7-5, then won against Brad Jacobs (Sault Ste Marie, Ontario) 7-6. Epping lost their next game to Paterson 8-7, then responded with a 6-1 win over Edin in their final qualifying round match.