Isabella Wrana wins Paf Masters Tour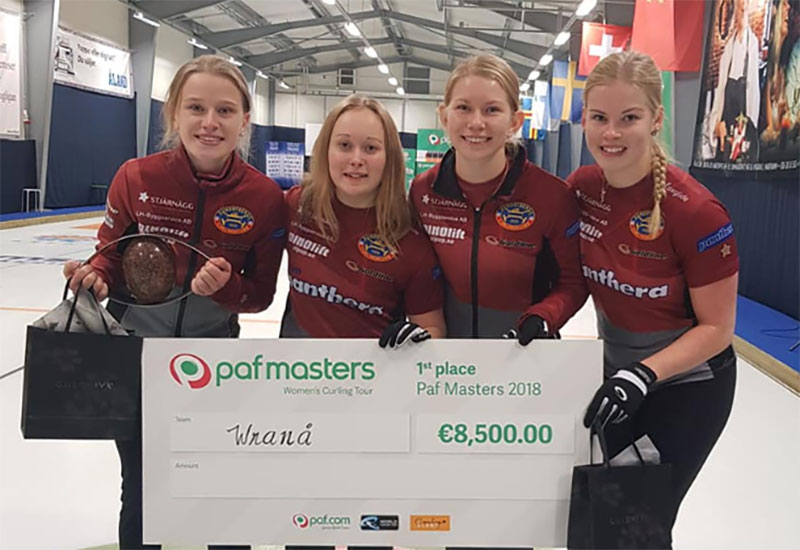 Isabella Wrana (Stockholm, Sweden) wins the Paf Masters Tour, defeating Sayaka Yoshimura (Sapporo, Japan) 5-3 in Aland, Finland. Wrana with Jennie Wahlin at third, Almida de Val and Fanny Sjoberg on the front end take home the $12,769CDN first place cheque along with 24.497 world ranking points, while Yoshimura receives $6,760CDN and 17.965 world ranking points for their second place finish.

Starting with hammer, Wrana blanked the first end, then got on the board scoring 1 in the second end. After a blank end, Wrana stole the fourth end, then forced Yoshimura to a single in the fifth end to lead 2-1. Wrana scored 2 in the sixth end, with Yoshimura responding in the seventh end scoring 2 of their own. Coming home up 1 with hammer, Wrana scored a single in the eighth end to clinch the 5-3 win.

In the semifinals, Wrana defeated Aline Fellmann (Schaffhausen, Switzerland) 6-4 and Yoshimura defeated Tova Sundberg (Ostersund, Sweden) 7-3. Sundberg won $4,507CDN and 14.698 ranking points, while Fellmann won $3,005CDN along 13.065 ranking points for their semifinal finishes. In the quarterfinals, Sundberg defeated Di Zhang (Harbin, China) 7-6 and Fellmann defeated Li Jun Zhang (Beijing, China) 6-4 in an extra end. Li Jun and Di Zhang earned 9.799 ranking points for their quarterfinal finishes.

Wrana went 4-0 in the 10 team round-robin pools qualifying round. In their opening game, Wrana defeated Pauline Jeanneret (Aland, Finlad) 11-5, won against Fellmann 7-1, Ieva Rudzite (Riga, Latvia) 8-5, and against Sundberg 4-3 in their final qualifying round match.