Yuta Matsumura wins Driving Force Abbotsford Cashspiel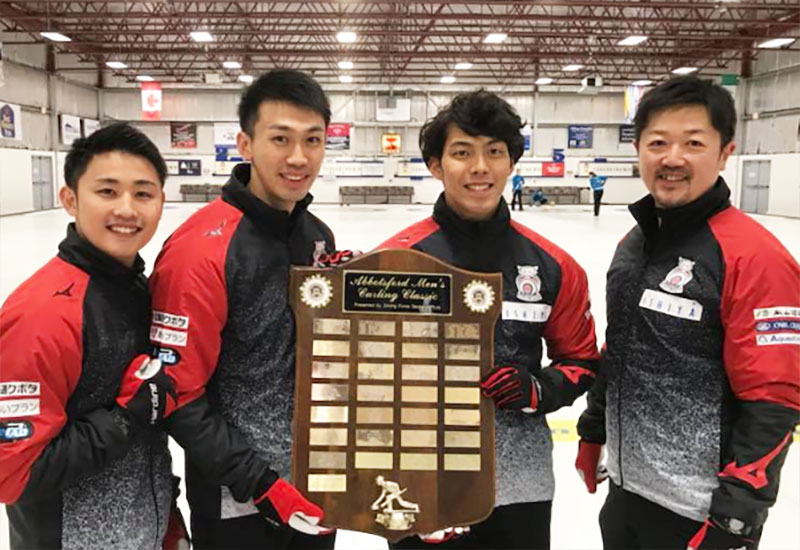 Yuta Matsumura (Sapporo, Japan) wins the Driving Force Abbotsford Cashspiel, defeating Sean Geall (Kelowna, BC) 7-1 at the Abbotsford Curling Club in Abbotsford, Canada. Matsumura with Tetsuro Shimizu at third, Yasumasa Tanida and Shinya Abe on the front end take home the $8,000CDN first place cheque along with 20.208 world ranking points, while Geall receives $5,000CDN and 14.819 world ranking points for their second place finish.

Starting with hammer, Geall blanked the first end, then got on the board scoring 1 in the second end. After a blank end, Matsumura scored 3 in the fourth end to lead to 3-1, then added a steal in the fifth end. Matsumura added another steal of 3 in the sixth end for the 7-1 win.

In the semifinals, Matsumura defeated Grant Dezura (Maple Ridge, BC) 6-5 and Geall defeated Thomas Scoffin (Whitehorse, Yukon) 7-5. Scoffin and Dezura earned $2,500CDN and 11.451 ranking points for their semifinal finishes. In the quarterfinals, Matsumura defeated Tyler Klymchuk (Kamloops, BC) 8-2, Geall defeated Wylie Eden (Kelowna, BC) 8-6, while Scoffin defeated Deane Horning (Castlegar, BC) 6-2 and Dezura defeated Josh Barry (Vancouver, BC) 9-5. Barry, Klymchuk, Eden and Horning earned $1,200CDN along with 8.083 ranking points for their quarterfinal finishes.

Matsumura went 3-0 in the 20 team round robin pools qualifying round. In their opening game, Matsumura defeated Brayden Carpenter (New Westminster, BC) 8-2, won against Horning 7-5, and then won against Glen Jackson (Victoria, BC) 8-6 in their final qualifying round match.