Belarus' Ilya Shalamitski wins Tallinn Mens International Challenger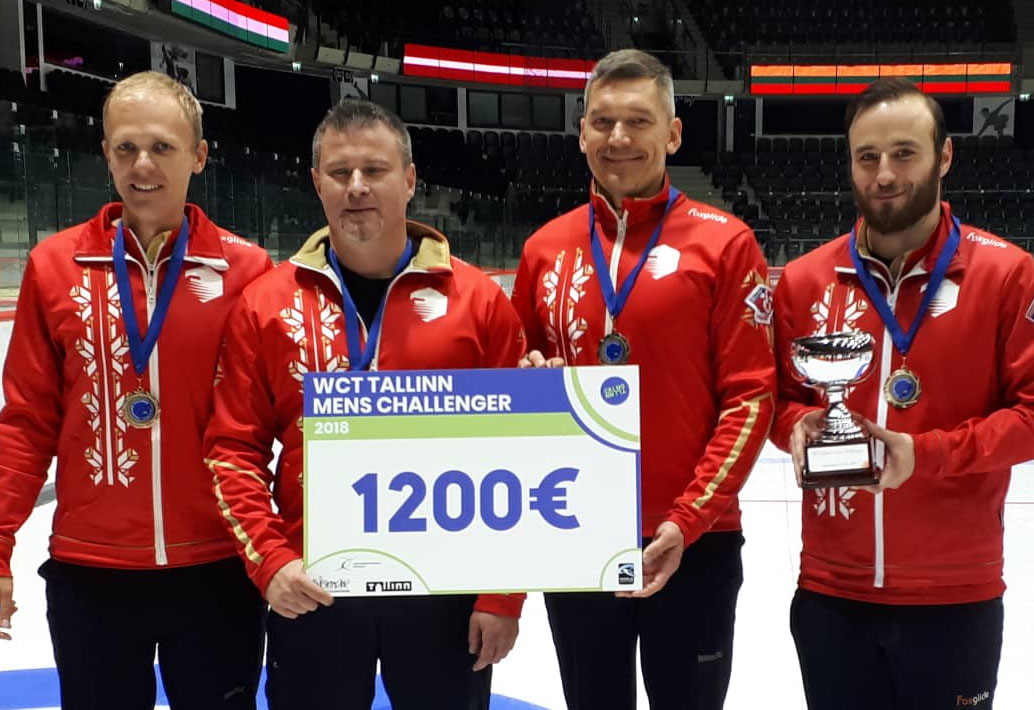 Ilya Shalamitski (Minsk, Belarus) wins the Tallinn Mens International Challenger, defeating Tomi Rantamaki (Hyvinkaa, Finland) 6-3 at the Tondiraba Ice Hall in Tallinn, Estonia. Shalamitski with Pavel Petrov at third, Dmitri Rudnitski and Yevgeny Tamkovich on the front end take home the $1,801CDN first place cheque along with 11.792 world ranking points, while Rantamaki receives $1,051CDN and 8.647 world ranking points for their second place finish. The title win by Shalamiski is the first for a team from Belarus on the World Curling Tour.

Starting with hammer, Shalamitski scored 2 in the first end, then forced Rantamaki to a single in the second end. After a blank end, Shalamitski scored 2 in the fourth end to extend the lead to 4-1, then forced Rantamaki to a single in the fifth end. Rantamaki added a steal in the sixth end to close the gap but Shalamitski scored two in the 7th end and held on for the 6-3 win.

In the semifinals, Shalamitski defeated Jaap van Dorp (Zoetermeer, Netherlands) 6-4 and Rantamaki defeated Wille Makela (Hyvinkaa, Finland) 4-3. van Dorp won $600CDN, while Makela won $300CDN along 6.289 ranking points for their semifinal finishes. In the quarterfinals, Shalamitski defeated Mihhail Vlassov (Tallinn, Estonia) 8-5, Rantamaki defeated Lucien Lottenbach (Luzern, Switzerland) 5-3, while Makela defeated Tadas Vyskupaitis (Vilnius, Lithuania) 10-0. Lottenbach, Vyskupaitis, and Vlassov earned 4.717 ranking points for their quarterfinal finishes.

Shalamitski went 3-1 in the 15 team round-robin pools qualifying round. In their opening game, Shalamitski defeated Daniel Poulsen (Hvidovre, Denmark) 11-3, then losing their next game to Makela 8-3, Shalamitski responded with a 7-1 win over Ritvars Gulbis (Riga, Latvia), then won 9-5 against Olaf Bolkenbaas (Zoetermeer, Netherland) in their final qualifying round match.