Switzerland's Ursi Hegner wins Tallinn Ladies International Challenger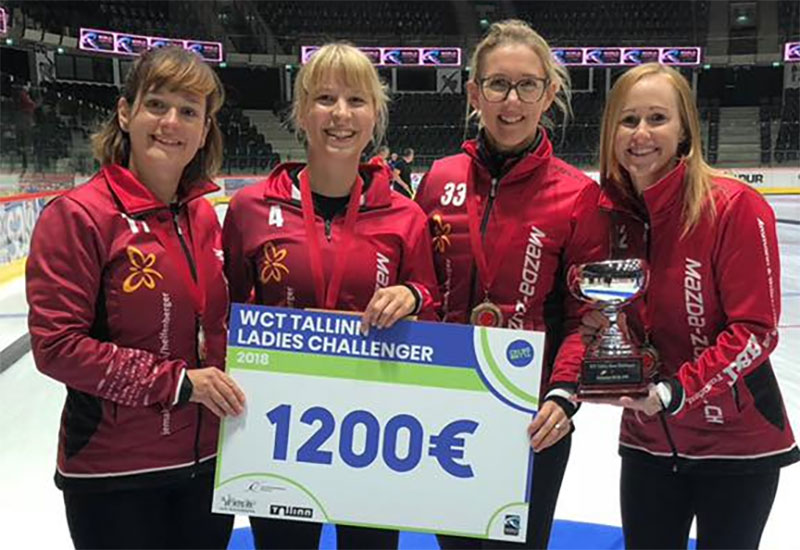 Ursi Hegner (Uzwil, Switzerland) wins the Tallinn Ladies International Challenger, defeating Maile Molder (Tallinn, Estonia) 7-3 at the Tondiraba Ice Hall in Tallinn, Estonia. Hegner as skip throwing third stones with Michele Jaeggi throwing the last stones and Nina Ledergerber and Claudia Baumann on the front end take home the $1,801CDN first place cheque along with 18.530 world ranking points, while Molder receives $1,051CDN and 13.588 world ranking points for their second place finish.

Starting with hammer, Hegner scored 1 in the first end, with Molder responding in the second end scoring 2. Hegner scored a single in the third end, then added a steal of 2 in the fourth end for the turning point of the game. Molder scored a single in the fifth end to trail 4-3, when Hegner responded in the sixth end scoring 2, then added a steal in the seventh end and held on for the 7-3 win.

In the semifinals, Hegner defeated Oona Kauste (Hyvinkaa, Finlad) 10-3 and Molder defeated Dorottya Palancsa (Budapest, Hungary) 5-4. Kauste won $600CDN, while Palancsa won $300CDN along 9.882 ranking points for their semifinal finishes. In the quarterfinals, Hegner defeated Miia Turto (Hyvinkaa, Finland) 11-1, Molder defeated Vlada Rumyanceva (Moscow, Russia) 8-2, while Kauste defeated Marta Szeliga-Frynia (Lodz, Poland) 4-1. Szeliga-Frynia, Rumyanceva, Turto earned 7.412 ranking points for their quarterfinal finishes.

Hegner went 4-0 in the 15 team round-robin pools qualifying round. In their opening game, Hegner defeated Marie Turmann (Tallinn, Estonia) 9-2, won against Maggie Wilson (Stirling, Scotland) 9-2, Alevtina Muraveva (Saint Petersburg, Russia) 10-3, and then won 8-1 against Turto in their final qualifying round match.