Krista McCarville wins KW Fall Classic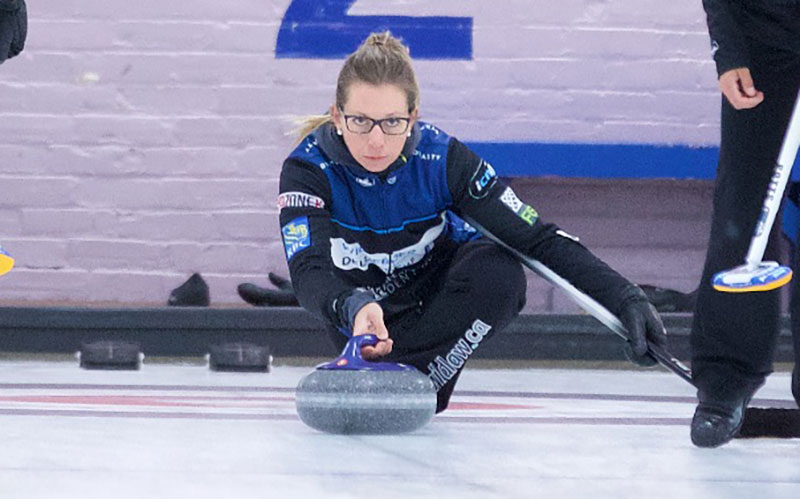 Krista McCarville (Thunder Bay, Ontario) wins the KW Fall Classic, defeating Jestyn Murphy (Mississauga, Ontario) 6-5 in an extra end at the K-W Granite Club in Waterloo, Canada. McCarville with Kendra Lilly at third, Ashley Sippala and Sarah Potts on the front end take home the $3,000CDN first place cheque along with 34.324 world ranking points, while Murphy receives $2,000CDN and 25.171 world ranking points for their second place finish.

Starting with hammer, McCarville scored 1 in the first end, after which Murphy responded in the second end scoring 2. After a blank end, Murphy stole 2 in the fourth end to take a 4-1 lead. McCarville responded in the fifth end scoring 3 to tie the game,then forced Murphy to a single in the sixth end. After another blank end, McCarville scored a single the eighth end sending the game to an extra end where they stole a point for the 6-5 win.

In the semifinals, McCarville defeated Jacqueline Harrison (Toronto, Ontario) 4-3 and Murphy defeated Jo-Ann Rizzo (Toronto, Ontario) 6-4 in an extra end. Harrison and Rizzo earned $1,350CDN and 19.450 ranking points for their semifinal finishes. In the quarterfinals, McCarville defeated Kirsten Marshall (Kitchener, Ontario) 7-1, Murphy defeated Laurie St-Georges (Laval, Quebec) 6-3, while Harrison defeated Sayaka Yoshimura (Sapporo, Japan) 5-4 and Rizzo defeated Susan Froud (Waterloo, Ontario) 7-4. Froud, Yoshimura, St-Georges and Marshall earned $900CDN along with 13.730 ranking points for their quarterfinal finishes.

McCarville went 4-0 in the 19 team round robin pools qualifying round. In their opening game, McCarville defeated Froud 6-2, then won against Di Zhang (Harbin, China) 6-3, 6-1 over Katelyn Wasylkiw (Unionville, Ontario) and then finished the round robin with a 7-2 win over Marteen Jones (Lindsay, Ontario) 7-2.