Canada's Rachel Homan wins Curling World Cup Title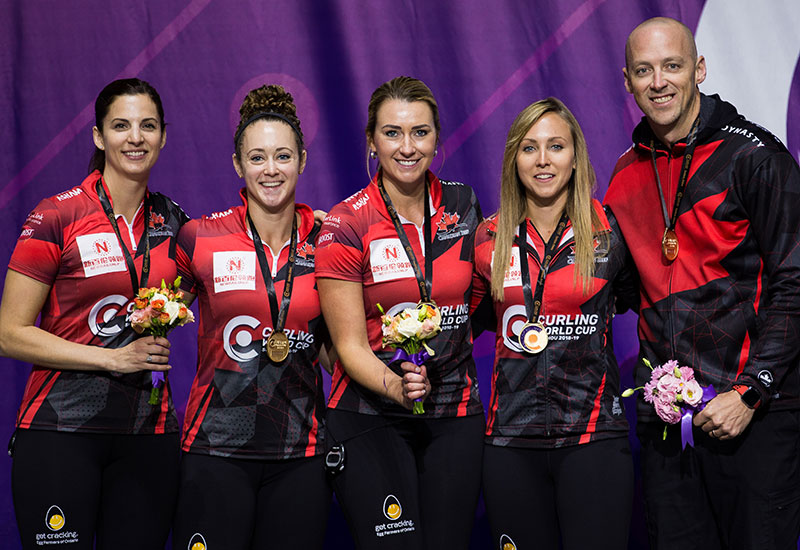 Suzhou, China - Rachel Homan's Canadian team - of third Emma Miskew, second Joanne Courtney and lead Lisa Weagle (WCF photo by Celine Stucki) - have become the second Canadian team to win the first leg of the 2018-2019 Curling World Cup, in Suzhou, China and secure a place in the Grand Final, to be held in Beijing, next year.

Homan put in a flawless performance to lead Canada to a 7-3 victory over the Swedish Olympic champions, Team Anna Hasselborg, in the women's final at the Curling World Cup first leg in the Suzhou Olympic Sports Centre.

The Canadian skip has been a class act all week and was the star turn once more in a final which her rink dominated throughout.

After a blank first end, Homan's highlight reel began with a straight takeout for two, but a hit-and-roll to steal one point in the following end was arguably her finest.

"We could've lost control there had we not made that," she said afterwards. "There were quite a few key shots in that game that we had to make and we did. It was an all-round good game for my team."

Although Hasselborg rescued one point to reduce arrears to 3-1 at the halfway point, a superb double takeout by 29-year-old Homan put one more on the board in the fifth end for the Canadians.

Hasselborg's draw to bag two points in the sixth end was perfect and Sweden suddenly had hope at 4-3 down, but Homan was able to blank a very tactical seventh end with a simple takeout shot.

That gave Canada hammer in the final end and she earned two points with a perfectly judged - and swept - takeout shot which earned two points, the game, the title, a place in May's Grand Final and the small matter of $USD 20,000 (plus $USD 7,500 in group-stage earnings).

"It's really exciting," Homan commented. " This is the first event of the year and I'm really proud of my team-mates. It was a grind. Both teams played so well. Anna's team was phenomenal right to the end. That was a tough shot at the end, it was a great line call and great sweeping, so I'm just really proud of my team."

Asked about the Curling World Cup's group format, she commented: "It's really different. It's kind of cool playing the same team twice. Only one team from each group going forward makes it really cut-throat, you can't lose too many games. It definitely keeps you on your toes."

Canada are sending two different rinks to the next two Curling World Cup stages in Omaha (United States) and Jonkoping (Jonkoping, Sweden), leading Homan to say: "Getting to the Grand Final was our goal coming in here as this is the only World Cup leg we're going to."

"I think they learned the ice a little bit quicker than us," said the 29-year-old Hasselborg. "I think they took advantage of having hammer and they played a little bit better. But, I think hammer was key here and unfortunately, we didn't have the chance to play for that.

"The team performed well but I think I learned the ice a little bit too slow today. Every game here is super important. We've had a ton of fun here and we're looking forward to the next one."