Canada wins Curling World Cup Mixed Doubles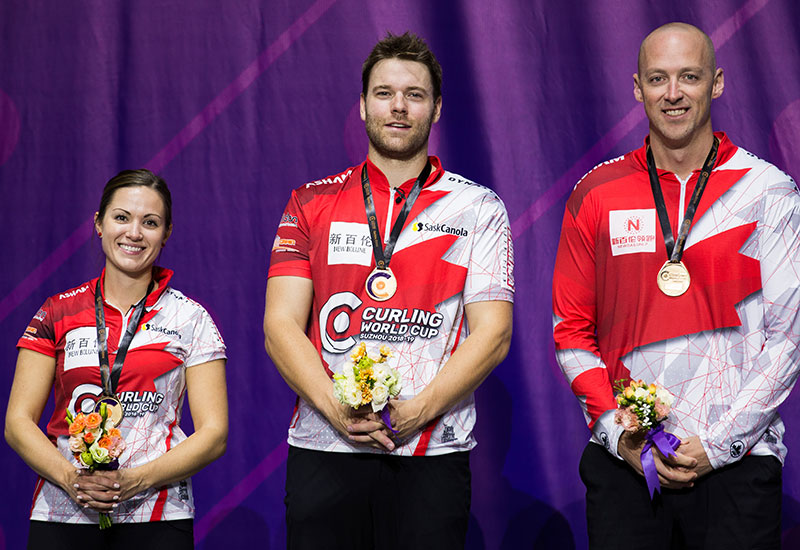 Suzhou, China - Laura Walker and Kirk Muyres (WCF photo by Celine Stucki) gave Canada the perfect start to Curling World Cup finals day in Suzhou, China with victory in the mixed doubles final over the United States.

Their 7-3 victory, in the brand new Suzhou Olympic Sports Centre, hinged on a steal for three points in the fifth end as United States' Sarah Anderson got the wrong line with a takeout shot. A further steal for one point in the following end saw the States fall three points behind and even an audacious call in the seventh could not save them from defeat.

That call saw them run their final stone through the house with Canada lying one, thus keeping the hammer for the final end with a 7-3 deficit.

That call was debated afterwards, and Muyres said: "They surprised us. We thought we were going to have to play our power-play [in the final end] but I guess they thought it was going to work for them. It changed the dynamic a little bit and it gets a little scary for a little bit there, they certainly fooled us."

Muyres and Walker earned $USD 10,000 (plus $USD 3,750 in round-robin earnings) for winning the first leg of this new four-leg Curling World Cup series. More importantly, they booked their place in May's Grand Final in Beijing, where there is $USD 13,500 up for grabs for the winners, as well as $USD 1,500 for each round-robin win.

United States led the final 3-2 at the halfway stage and Walker reflected: "It was a great battle and the United States put a lot of pressure on us early. I have to thank my partner for keeping us in it. It feels great."

Anderson and Korey Dropkin were naturally disappointed but reflected on a positive week in Suzhou. "We might not have come out with the W in the end, but I think we're really happy with how we played," said Anderson. "We just needed a couple more shots. It just came down to execution and we missed a few shots on the wrong side."

Anderson added: "It was a great experience to come here for the first Curling World Cup and I think it's only going to help us moving forward and make us more determined to come back better."

On that decision to run through the house in the seventh end, Dropkin said: "We figured it was better going into the last end down four with hammer versus giving them hammer with the power-play up two. That would have been tough to come back from. We don't regret that call - you live and you learn and I think it was a decent call on our part."

The Curling World Cup format, with only the two group winners progressing, was obviously to the winners' liking: "It's cut-throat," said Walker. "You need to come first in your pool and if you lose only one game it could mean you don't qualify, so it's been fun, a lot of pressure-packed games and it's nice to play something different."

Muyres agreed: "It's pretty savage. You've got to keep battling. It's something different. When you're on the winning side of it, it's always easy but if you asked some of the teams who lost a few games on play-offs they wouldn't be too happy. We're on the right side of it, first time in history; it's pretty cool!"