Bruce Mouat wins Aberdeen International Curling Championship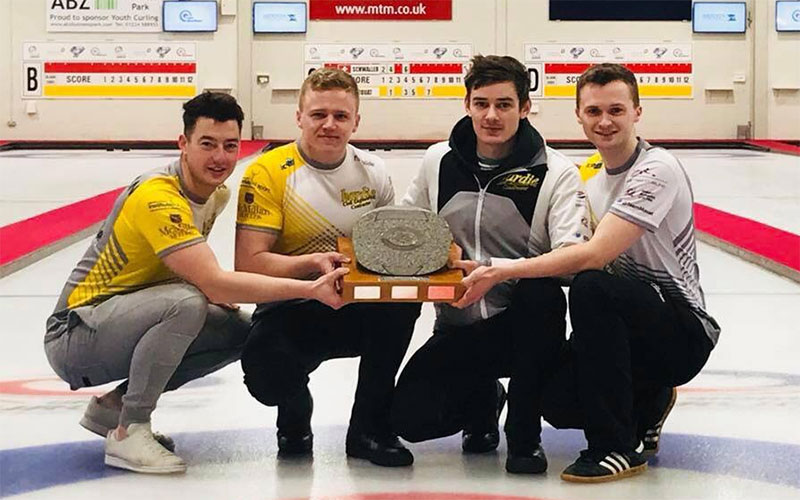 Bruce Mouat (Edinburgh, Scotland) wins the Aberdeen International Curling Championship, defeating Yannick Schwaller (Bern, Switzerland) 7-4 in the Final at Curl Aberdeen in Aberden, Scotland. Mouat with Grant Hardie at third, Bobby Lammie and Hammy McMillan Jr. on the front end take home the $10,040CDN first place cheque along with 36.542 world ranking points, while Schwaller receives $5,476CDN and 28.712 world ranking points for their second place finish.

Mouat opened the scoring stealing 2 in the first end, then forced Schwaller to a single in the second end. Mouat scored 2 more in the third end, then forced Schwaller to a single in the fourth end to lead 4-2. After Mouat scored a single in the fifth end, Schwaller responded in the sixth end scoring 2 with Mouat scoring 2 in the seventh end and running Schwaller out of stones in the 8th end for the 7-4 win.

In the semifinals, Mouat defeated Kyle Smith (Perth, Scotland) 9-6 and Schwaller defeated Alexander Baumann (Baden-Baden, Germany) 8-3. Smith and Baumann earned $2,282CDN and 22.186 ranking points for their semifinal finishes. In the quarterfinals, Mouat defeated Greg Drummond (Stirling, Scotland) 7-4, Schwaller defeated Cameron Bryce (Stirling, Scotland) 6-5, while Baumann defeated Tom Brewster (Aberdeen, Scotland) 5-4 and Smith defeated Steffen Walstad (Oppdal, Norway) 7-6. Drummond, Bryce, Walstad and Brewster earned $1,022CDN along with 15.661 ranking points for their quarterfinal finishes.

Mouat went 4-1 in the 16 team round-robin pools qualifying round. In their opening game, Mouat defeated Marc Pfister (Adelboden, Switzerland) 6-4, then won against Baumann 4-3, against Bryce 7-4, and Jaap van Dorp (Zoetermeer, NED) 5-3, losing their final round robin game to Glen Muirhead (Perth, Scotland) 5-2.