Binia Feltscher wins Glynhill Ladies International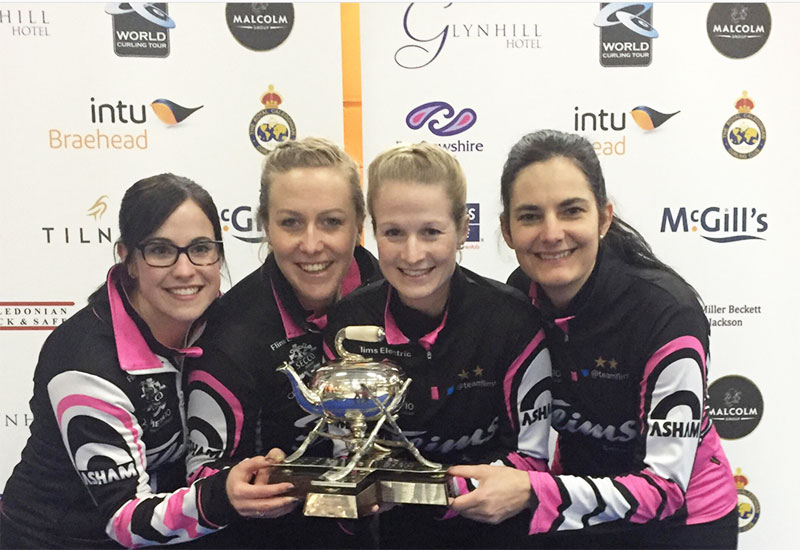 Binia Feltscher (Flims, Switzerland) wins the Glynhill Ladies International, defeating Elena Stern (Wetzikon, SUI) 7-4 at Braehead in Glasgow, Scotland. Feltscher with Irene Schori at third, Franziska Kaufmann and Carole Howald on the front end take home the $6,936CDN first place cheque along with 35.948 world ranking points, while Stern receives $3,468CDN and 28.245 world ranking points for their second place finish.

Starting with hammer, Feltscher scored 1 in the first end, then added a steal in the second end. Stern scored a single in the third end, Feltscher then responded in the fourth end scoring 2 to extend the lead to 4-1. Stern scored 2 in the fifth end, with Feltscher scoring two in the sixth end. Stern added a single in the seventh end, with Feltscher scoring a single in the eighth end for the 7-4 win.

In the semifinals, Feltscher defeated Eve Muirhead (Perth, Scotland) 8-1 and Stern defeated Bingyu Wang (Harbin, China) 6-4. Muirhead and Wang earned $1,734CDN and 21.826 ranking points for their semifinal finishes. In the quarterfinals, Feltscher defeated Victoria Moiseeva (St. Petersburg, Russia) 11-3, Stern defeated Isabella Wrana (Sundbyberg , Sweden) 8-7, while Muirhead defeated Hannah Fleming (Lockerbie, Scotland) 5-4 in an extra end and Wang defeated Un-Chi Gim (Gyeonggi-do, Korea) 11-4. Gim, Wrana, Fleming and Moiseeva earned $867CDN along with 15.406 ranking points for their quarterfinal finishes.

Feltscher went 4-0 in the 18 team round-robin pools qualifying round. In their opening game, Feltscher defeated Daniela Jentsch (Fuessen, Germany) 6-1, won against Claire Hamilton (Edinburgh, Scotland) 7-1, and Maggie Wilson (Perth, Scotland) 7-1, then winning against Wrana 8-7 in their final qualifying round match.