Robyn Silvernagle wins Boundary Ford Curling Classic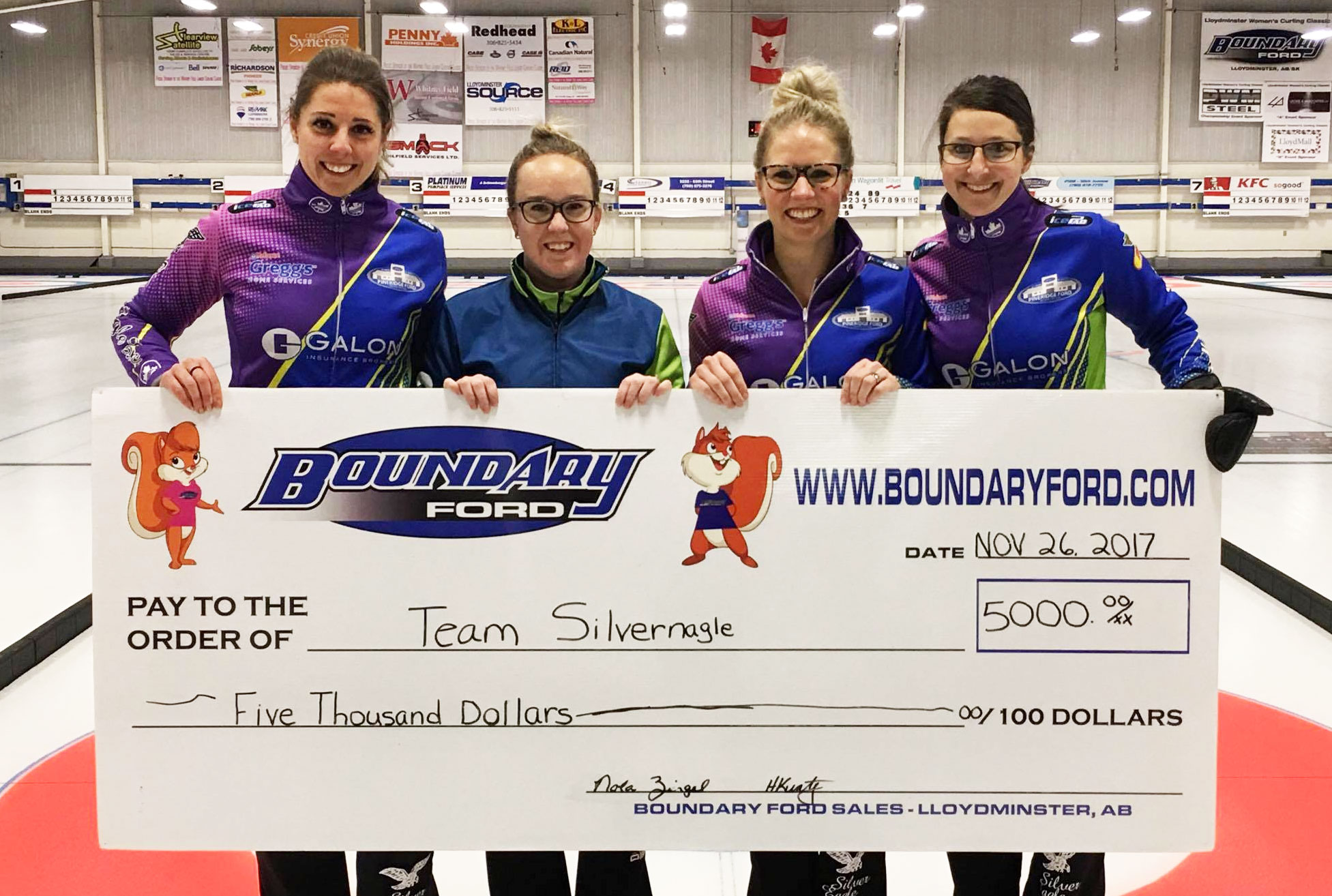 Robyn Silvernagle (North Battleford, SK) wins the Boundary Ford Curling Classic, defeating Chantelle Eberle (Regina, SK) 6-4 at the Lloydminster Curling Club in Lloydminster, Canada. Silvernagle with Jessie Hunkin at third, Dayna Demers and Kara Thevenot on the front end take home the $5,000CDN first place cheque along with 19.129 world ranking points, while Eberle receives $3,000CDN and 15.030 world ranking points for their second place finish.

Starting with hammer, Silvernagle scored 1 in the first end, then added a steal in the second end. After Eberle scored a single in the third end, Silvernagle was forced to a single in the fourth end to lead to 3-1. After a blank end, Eberle scored a single the sixth end, then added a steal of 2 in the seventh end to take a 4-3 lead. Silvernagle scored 2 in the eighth end to take back the lead, then stole the ninth end and held on for the 6-4 win in the 10th end.

In the semifinals, Silvernagle defeated Mandy Selzer (Balgonie, SK) 8-5 and Eberle defeated Rachel Fritzler (Saskatoon, SK) 8-2. Fritzler and Selzer earned $2,000CDN and 11.614 ranking points for their semifinal finishes. In the quarterfinals, Silvernagle defeated Nancy Martin (Saskatoon, SK) 10-4, Eberle defeated Holly Scott (Calgary, AB) 6-5, while Selzer defeated Brett Barber (Biggar, SK) 10-9 in an extra end and Fritzler defeated Krysta Hilker (Edmonton, AB) 8-7 in an extra end. Barber, Scott, Hilker and Martin earned $1,500CDN along with 6.149 ranking points for their quarterfinal finishes.

Silvernagle went 2-1 in the 14 team triple knockout qualifying round. In their opening game, Silvernagle lost 8-4 to Barber, responding with a 10-4 win over Selzer. Silvernagle won against Scott 9-6 in their B-Qualifier match to advance to the playoffs.