Balderston wins Original 16 WCT Bonspiel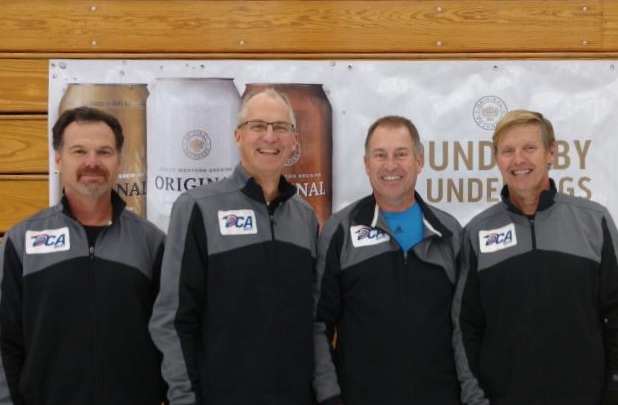 Kurt Balderston (Grande Prairie, AB) wins the Original 16 WCT Bonspiel, defeating Tom Brewster (Aberdeen, SCO) 8-7 in an extra end. Balderston with Terry Meek at third, Rob Bucholz and Del Shaughnessy on the front end take home the $6,000CDN first place cheque along with 31.804 world ranking points, while Brewster receives $4,000CDN and 24.989 world ranking points for their second place finish.

Starting with hammer, Balderston scored 2 in the first end, then forced Brewster to a single in the second end. After Balderston scored a single in the third end, Brewster responded in the fourth end scoring 3 to take a 4-3 lead. Balderston scored 2 in the fifth end, when Brewster scored 2 in the sixth end. Balderston scored 2 in the seventh end to take the lead when Brewster scored a single in the eighth end to send the game to and extra end where Balderston scored a single for the 8-7 win.

In the semifinals, Balderston defeated Stuart Thompson (Dartmouth, NS) 5-4 in an extra end and Brewster defeated Aaron Sluchinski (Airdrie, AB) 7-4. Sluchinski and Thompson earned $3,000CDN and 19.310 ranking points for their semifinal finishes. In the quarterfinals, Balderston defeated Karsten Sturmay (Edmonton, AB) 8-2, Brewster defeated Greg Drummond (Stirling, SCO) 4-1, while Thompson defeated Rui Liu (Harbin, CHN) 7-6 and Sluchinski defeated Rasmus Stjerne (Hvidovre, DEN) 5-0. Drummond, Liu, Stjerne and Sturmay earned $2,000CDN along with 13.630 ranking points for their quarterfinal finishes.

Balderston defeated Thompson 5-3 in a playoff qualifier to advance to the playoffs. Balderston went 3-0 in the 24 team qualifying round. In their opening game, Balderston defeated Stefan Staehli (Bern, SUI) 8-5, won against Carl deConinck Smith (Rosetown, SK) 9-5, and Daylan Vavrek (Calgary, AB) 6-2 to advance to the qualifier.