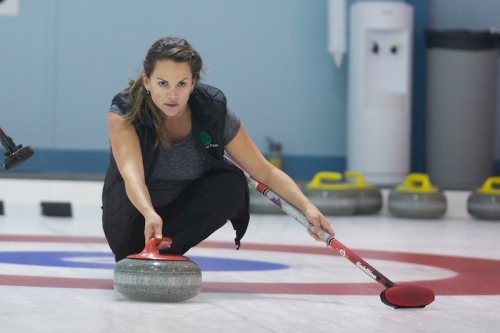 Born: Oct 12, 1972
in Pembroke, Ontario
Resides: Burlington, Ontario
Throws: Right
Profession: Elementary School Teacher, Halton Catholic District School Board
High School: General Panet, Petawawa. Widdifield Secondary, North Bay
College/University: Nipissing University, North Bay
In Own Words:
I was introduced to curling as a young child watching my parents and if I was lucky, dad taking me out on the ice. Around my house, everything stopped when curling was on tv. My parents would address christmas presents to each other using their favourite curlers at the time..."To: The Wrench Love, Marilyn Bodough" They would stagger in from closing night at the curling club lugging all their trophies for that year. When I got older, I would look forward to the bonspeils and closing night as I knew I would be able to get the car provided I picked them up from the club at closing time. Curling was a source of fun, friendship, a little exercise and a few grey hairs for my parents (especially when they played mixed together)...well and there's the hangovers. [cr][lf][cr][lf]Eventually, my parents began planning their annual trips to the Brier. Every year my dad attracted the attention of the local newspaper and even national news casts as "The Moose Man" from Northern Ontario. I will always remember watching my dad live from the Brier Patch. They had a ball cheering for Northern Ontario especially Scott Patterson and Phil Lovenmark.[cr][lf][cr][lf]I had very low key junior years. Scott Patterson and Phil Lovenmark were the well known curlers around Petawawa. And became celebrities in North Bay when they made it to the Brier. I was curling on the Nipissing University team then. And that is how I met my husband Scott Foster. I curled with his sister at Nipissing. She brought a bunch of us down from North Bay to Oshawa to play in the Motor City Mixed. [cr][lf][cr][lf]Curling is a huge part of my life. It is Scott's passion and livelihood. I have been curling competitively since 1998 when I made it to my first Provincial with Deb Thompson as my Skip. And I just can't shake the dream of making it to the Scotties.
Curling Highlights:
I think 9 Provincials? All-Star Lead at Mixed Nationals, winning a few spiels, playing in a Canada Cup Qualifier, Olympic Pre-Trials...but definitely the highlight of my curling career is playing on this team over the past few years. It is gratifying to be a part of such a dedicated and talented team of women who are united by common goals and dreams and respect for each other.

BANNER