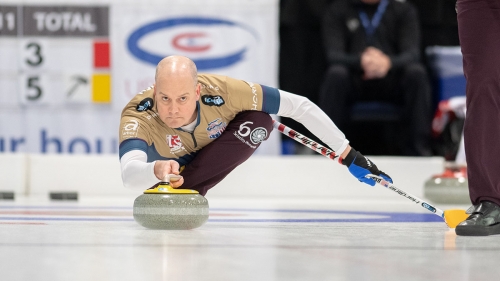 Born: Mar 31, 1971
in St. Paul, Minnesota
Resides: Brooklyn Park, Minnesota
Throws: Right
Profession: Attorney, Terry, Slane & Ruohonen/ TSR Injury Law
High School: Spring Lake Park High School
College/University: Hamline University
In Own Words:
I am married to Sherry and have two kids Hannah (age 12) and Nicholas (age 9). I am a partner in a Bloomington, Minnesota firm called TSR Injury Law with 10 lawyers. Our website is tsrinjurylaw.com and we help people who have been injured in accidents of all types. Besides curling, I enjoy playing competitive softball in the summer. I now spend my summers at our cabin in Annandale, MN, and helping coach my daughter in fastpitch softball and my son in baseball. I also coach my daughters curling team. I also enjoy fishing, basketball, biking, tennis and generally all sports. [cr][lf][cr][lf]I started curling in 5th grade when I moved back to the Twin Cities area to live with my dad. I started on Saturday mornings in Junior curling at the St. Paul Curling Club and have been playing ever since. [cr][lf][cr][lf]Curling is a very important part of my life. It takes a big commitment to represent your country in the World Championships as it takes significant time away from your job and family. However, once you get there as we did last year, it makes all the practice and weekends away worthwhile.
Curling Highlights:
2008 United States National Champion, runner-up in 2011 and 2013.

BANNER
Team Ruohonen (2019/20)
Minneapolis, United States

Fourth
Greg
Persinger


SKIP
Rich
Ruohonen


Second
Colin
Hufman


Lead
Phil
Tilker


Alternate
Alternate
Kroy
Nernberger


CAMERON'S Brewing Oakville Fall Classic
Aug 30 - Sep 2, 2019: Oakville, ON
Stu Sells Oakville Tankard
Sep 5 - 8, 2019: Oakville, ON
Let's Cure Lupus St. Paul Cash Spiel
Oct 4 - 6, 2019: St. Paul, MN
Curl Mesabi Classic
Nov 29 - Dec 1, 2019: Eveleth, MN
Red Deer Curling Classic
Nov 15 - 18, 2019: Red Deer, AB
Beyer & Simonson US Open of Curling - Championships
Sep 19 - 22, 2019: Blaine, MN
Cargill Curling Training Centre Icebreaker
Aug 23 - 25, 2019: Morris, MB
Ed Werenich Golden Wrench Classic presented by The Lodge Sasquatch Kitchen
Jan 9 - 12, 2020: Tempe, AZ
Curling Masters Champery
Oct 17 - 20, 2019: Champery, SUI
Kioti Tractor Tour Challenge Tier 2
Nov 5 - 10, 2019: Pictou County, NS
Changan Ford International Curling Elite
Dec 5 - 10, 2019: Xining, CHN
USA Curling National Championship
Feb 8 - 15, 2020: Spokane, WA