John Epping wins AMJ Campbell Shorty Jenkins Classic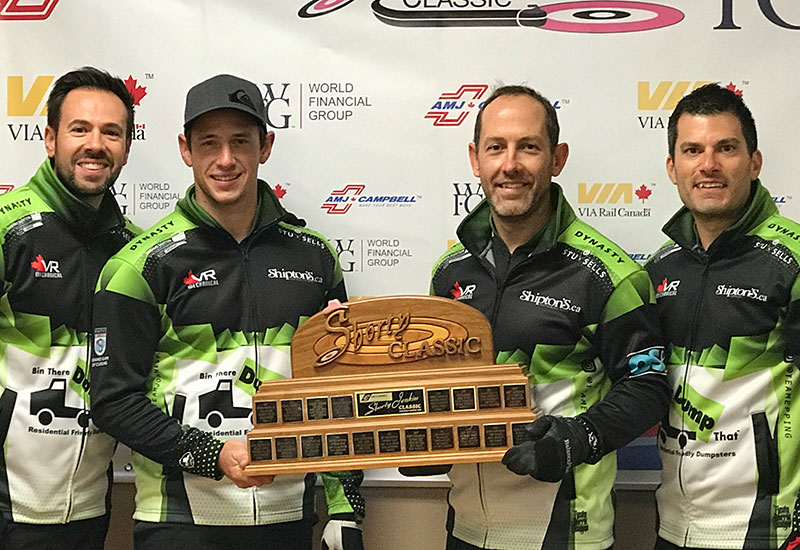 John Epping (Toronto, Ontario) wins the AMJ Campbell Shorty Jenkins Classic, defeating Brad Jacobs (Sault Ste Marie, Ontario) 5-2 at the Cornwall Curling Club in Cornwall, Canada. Epping with Mathew Camm at third, Brent Laing and Craig Savill on the front end take home the $15,500CDN first place cheque along with 65.156 world ranking points, while Jacobs receives $10,500CDN and 47.781 world ranking points for their second place finish.

Epping opened the scoring stealing 1 in the first end. After a blank end, Epping stole 2 in the third end, then forced Jacobs to a single in the fourth end to lead 3-1. Epping scored a single in the fifth end, then forced Jacobs to a single in the sixth end. Epping scored a single in the seventh end and ran Jacobs out of stones in the eighth end for the 5-2 win.

In the semifinals, Epping defeated Ross Paterson (Glasgow, Scotland) 5-2 and Jacobs defeated Glenn Howard (Penetanguishe, Ontario) 5-3. Howard and Paterson earned $6,400CDN and 36.922 ranking points for their semifinal finishes. In the quarterfinals, Epping defeated John Shuster (Duluth, USA) 4-3, Jacobs defeated Scott McDonald (Kingston, Ontario) 7-3, while Howard defeated Jason Gunnlaugson (Winnipeg, Manitoba) 9-0 and Paterson defeated Steve Allen (Ottawa, Ontario) 6-5. Allen, Gunnlaugson won $4,400CDN, while Shuster and McDonald earned $4,300CDN along with 26.063 ranking points for their quarterfinal finishes.

Epping went 5-0 in the 24 team round robin - pools qualifying round. In their opening game, Epping defeated Jaap van Dorp (Zoetermeer, Netherlands) 7-1, then won against Denis Cordick (Georgetown, Ontario) 10-3. Epping won 10-5 Scott Hill (Montreal, Quebec), 7-2 against Jean-Sebastien Roy (Saguenay, Quebec) and defeated Howard 7-2 in their final qualifying round match.