Mixed Doubles Coordinator Steps Down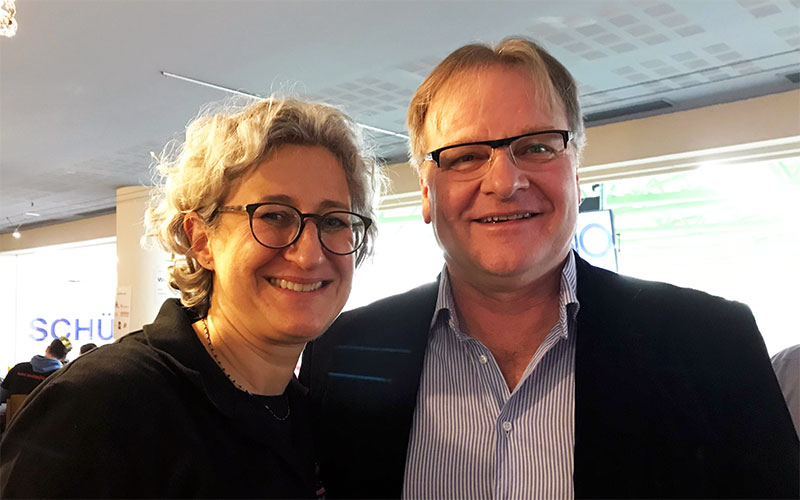 (PHOTO: Laurence Bidaud (left) with WCT CEO Armin Harder) Laurence Bidaud steps down as ISS World Mixed Doubles Curling Tour Coordinator.

Laurence, an Olympic Silver Medalist Salt Lake City playing lead with Luzia Ebnoether and 3-time World Championship medalist, joined the Curling Champions Tour in 2015 to develop the ISS World Mixed Doubles Curling Tour shortly after the IOC announced its inauguration into the Olympic Winter Games for 2018.

In its first season, the Curling Champions Tour (now ISS World Mixed Doubles Tour) managed to put together a 13 Events series around the World, creating the first International Mixed Doubles series of events to help promote the growth of the new discipline and give teams the opportunity to learn the game. Now in its 3rd full season, the ISS World Mixed Doubles Tour boasts 24 events in total and growing with around 250 Teams participating on the World Tour.

Laurence has been very much involved in the development of curling, for several years she was Organizing Committee Chair for the CCT/WCT Women?s Masters Basel and is currently the OC Chair of the International Mixed Doubles Trophy Aarau.

In that time Laurence also served as SWISSCURLING'S Mixed Doubles National Coach, overseeing a successful program.

The WCT wishes to thank Laurence for all the work she has done for the Tour and the Sport. We look forward to our continued cooperation on her Mixed Doubles event in Aarau which has been a great success once again this year.

Alina Biktimirova of Russia will take over for Bidaud as the Coordinator of the ISS World Mixed Doubles Curling Tour.